ONE Energy Racing and Bradley Smith roll out new colours at first MotoE test of 2019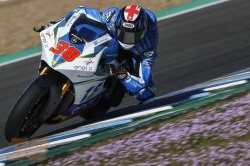 Posted on Mar 13, 2019 by One Energy Racing
British rider finishes eighth fastest on the first day of three at the Jerez - Angel Nieto Circuit, showing off the team's new livery for this season.
The first day of MotoE testing at the Jerez – Angel Nieto Circuit today saw the ONE Energy Racing bike and rider Bradley Smith resplendent in the new livery that will form part of the exciting new grid in 2019. The British rider and his technical staff completed an exhaustive programme of testing on the opening day, which ended with Smith in eighth position.
The ONE Energy Racing rider dominated the first ever preseason tests in the history of MotoE, which also took place here at Jerez earlier in the winter, clocking a best lap of 1'50.265 at the time. Smith and his team got back to work on bike set-up today, setting a 1'50.522 on the final lap of the morning session, when he was fifth. Smith took a step forward on the afternoon, lowering his time to a 1'50.017 on the last of his five laps, leaving him eighth overall at the end of the opening day of the test.
Bradley Smith and ONE Energy Racing will be back on track for two more days of tests at the Jerez-Angel Nieto Circuit on Thursday and Friday.

Bradley Smith:
"It was the first day of testing in 2019 and to be honest it felt really good. We kept the same base set-up that we had here at Jerez in November, when I managed to set the fastest lap time. We focused on getting back to that lap time and staying consistent with it, which we achieved. The other riders have made notable improvements since the last test in November. For tomorrow our objective will be to take a step forward with the base we have and find a direction that allows us to improve the lap time, not just the consistency. The bike is exactly the same as what we had last year but I love the new colour scheme - we look very unique compared to the other bikes in the category. Honestly, I think that we stand out with our design for this year. Now we have to work hard tomorrow to improve the lap times and get ONE Energy Racing back to the top of the timesheets where we left off last year."