One Energy Racing & Bradley Smith together in MotoE World Cup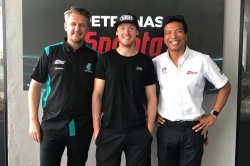 Posted on Nov 05, 2018 by One Energy Racing
One Energy Racing and Bradley Smith are delighted to announce today the signing of an agreement that foresees their joint participation in the MotoE World Cup in 2019.
MotoE is the newly formed electric class of the MotoGP™ Championship; an additional motorcycle racing category alongside the already highly established, MotoGP, Moto2 and Moto3 classes.
The electric motorcycles will run without producing any gaseous emission and make a limited amount of sound. All the energy stored in the batteries that will power the motorcycles will be produced from renewable resources. There will be five MotoE™ European race-events during MotoGP™ weekends, in 2019.
One Energy Racing is born from the passion, competence and experience of former World Championship rider Johan Stigefelt; CEO of Sepang International Circuit, Razlan Razali and dynamic entrepreneur Matteo Ballarin, who specializes in the distribution of electricity and gas.
Currently racing for KTM Motogp in 2018, British rider Bradley Smith brings with him the experience of thirteen seasons at World Championship level and twenty-five podiums across all three classes.

Bradley Smith:
"This is a completely new chapter in the motorcycling world and I am very excited to be a part of MotoE. EEnergy and I have a big task at hand to learn and adapt to this new technology, but I am confident we are ready for the challenge"

CEO of Sepang International Circuit – Raglan Razali:
"We are excited to support this new MotoE series and welcome Matteo to this project. Sepang Racing Team will support the operations of One Energy Racing team with our mechanics and engineers. It is also equally exciting for the technical team as it is a new venture and area for them to have fun but yet compete at the highest level. The seriousness of the One Energy Racing team is reflected in the signing of an experienced rider, Bradley Smith, which shows that the team is motivated to win."

Johan Stigefelt – Team Director:
"It will be a new challenge to enter into the Moto E World Chmpionship. No one knows how this will turn out and to be part of it from the very begining is very exciting. To have signed with Bradley is great for us. He is a rider and person with huge experience at the highest level and we expect him to do well. Saying that it will be a different challenge for Bradley and we need to be humble as well as targeting top results. The Team we have put together is great and come with a lot of experience. I am thankful for this opportunity and would like to thank our partners for their support."

Matteo Ballarin – Shareholder - ONE Energy Racing:
"We are proud of this agreement. For us at ONE Energy Racing, MotoE is a new entrepreneurial challenge that comes from our passion. We want to win and work for this, and certainly the agreement with Bradley is the first important step in this direction. "