Podium again for Bradley at Motegi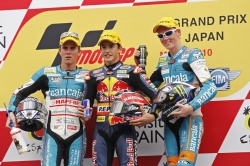 Posted on Oct 03, 2010 by Aspar Press
Although rain was forecast for the Japanese 125cc Grand Prix, a minor miracle gave the riders a dry race. It was an almost normal race in meteological terms. On track, no sooner had the green light gone out than Vázquez and Folger had crashed into each other, allowing a breakaway for Terol and Márquez. The Spanish duo relived their battle of Misano in Motegi, pursued by Smith, Espargaró and Cortese. The remainder of the riders were far, far back. On lap nine Márquez' push was too strong, and he broke free from Terol to win the race.

The Bancaja Aspar riders repeated their podium double from Aragón, again looking good on track. Nico Terol and Bradley Smith had clear intentions of victory at Motegi, with good performance over the weeknd's practice sessions. Always amongst the frontrunners, it was little surprise to see them at the head of the race. Terol started from second on the grid and Smith third, but both were unable to keep up with Márquez for the duration. Terol led for seven laps and Smith was left to play catch-up after barely missing the crash on the home straight. The duo eventually came home in identical positions to their grid places: second and third, respectively, with another race in which both riders stepped onto the podium. Terol continues to lead the World Championship, with four races remaining on the calendar. Japan opens a three-race run in consecutive weekends for the MotoGP series.

3rd Bradley Smith: "On the start I saw that two bikes were coming straight for me, so I was lucky to have barely avoided a crash. I had no time to react. The crash enabled Marc and Nico to get away from me early, with me looking to close up as much as possible but their push being too strong. I am happy in any case, because I had good pace and the podium is a positive result. However, I'm still missing a little in order to be up there with those at the front. We are on two consecutive podiums and I feel more comfortable with the Aprilia every day, so we are just missing a small step forward."