Positive pace for Smith in Argentina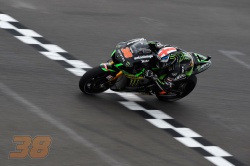 Posted on Apr 28, 2014 by Monster Yamaha Tech 3
Both Monster Yamaha Tech3 Team's riders finished Argentina's first MotoGP race after 15 years with strong performances at the Circuito Termas de Rio Hondo. In front of 125,000 ecstatic fans who had flocked to the sun drenched Argentinian track over the weekend, Bradley Smith and Pol Espargaro did not lack in determination and ended the race in 7th and 8th position respectively.
Bradley Smith, who started from 7th on the grid but slightly dropped back to 9th in the opening laps at the 4,806 meter circuit, regained his composure and proceeded to recover the lost ground fantastically well, with his excellent race pace shining through once again. On lap six, the British rider overtook his teammate to clinch 8th position before firmly setting his sights on the position in front.
Smith made an incredible charge to close the gap to the Factory Ducati rider of Andrea Dovizioso, gaining valuable time every single lap and gracefully passing him. As the fuel load decreased on his Yamaha YZR-M1, his speed boosted and the 23 year old set his personal best and fifth quickest lap of the race at the final stages, on lap 20. Today's result sees Smith confident of a top result at round 4 in Jerez as the MotoGP paddock returns to Europe next week.
Bradley Smith - Race: 7th - Championship: 9th - Points: 20
"It was a tough challenge today, but overall I am pleased to once again finish with a decent position. Unfortunately, my start was not ideal and the race was actually a similar scenario to Austin. My pace at the end was exactly where it needed to be, as I started to do low 1:40 laps, but as usual I struggled during the first half of the race when the bike is on a full fuel load. It happens on different race tracks, with various setups and on all types of tyre, so it seems that I have to find a way to adapt better. I just can't ride with the same corner speed and I'm not as smooth as I am at the end of the race. But we already have some ideas and will work on it in Jerez as I know I am there in terms of performance. Altogether the team and I are doing a really good job, but we just need to find that missing piece for Jerez, where we can hopefully make amends and can challenge as the leading satellite MotoGP bike which is the main aim at the moment."
Herve Poncharal:
"It was a very challenging race, and I think we can see that the 2014 MotoGP category is very exciting. All the different MotoGP bikes were competitive and the lap times were quite similar, no matter if they were Factory bikes, Factory 2 or Opens. I also believe Ducati chose the harder tyre compound option, which was our soft one, for Dovizioso and Iannone. They had a very strong first half of the race, however we managed to catch Dovizioso with both Bradley and Pol, although unfortunately Iannone was a just out of reach. All in all it has been a tough weekend, but the team did a great job and managed to finish with a satisfying result. We claimed back the 4th position in the Teams standings in the championship as opposed to the 0 number of points we had at round one in Qatar and I would call this an excellent recovery. I want to thank the whole team and both riders for the effort this week and we will be prepared to challenge for an even better result in just a few days of time under the Andalusian sun in Jerez."