Positive start for Smith in France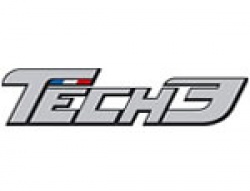 Posted on May 17, 2013 by Monster Yamaha Tech 3
The biggest race of the MotoGP World Championship campaign for the Monster Yamaha Tech 3 Team started in positive fashion for British duo Cal Crutchlow and Bradley Smith at the historic Le Mans track today.
This weekend's race is not only the all-important home encounter for the French-based Tech 3 squad, but the popular Le Mans event is sponsored once again by Monster Energy, the high profile American energy drinks company that is the title backer of Crutchlow and Smith's MotoGP effort.
Smith was 15th this morning, the British rider getting to grips with the world renowned Bugatti track while also working on the set-up of an updated YZR-M1 chassis which he tested with such positive results in Jerez recently.
He was able to improve by almost 1.5s in FP2 and he rocketed up into 11th place on the rankings with a best time of 1.35.362 that gave the 22-year-old a huge confidence boost ahead of Sunday's 28-lap race.
Smith's vast improvement was reflected in the gap to Jerez winner Dani Pedrosa, who led the way in FP1 and FP2. Smith was over two seconds behind Pedrosa this morning but he ended the second session just 1.327s off the quickest pace.

Bradley Smith 11th 1.35.362:
"Today was a good first day in Le Mans. I started to feel a lot more confident this afternoon compared to this morning because there was extra grip on track thanks to the higher track temperature. We found almost 1.5s and that's really positive. I like this circuit a lot, especially with a MotoGP bike and the differences compared to a smaller bike seem to be not that big compared to the other tracks I have experienced so far. I just have to understand the different braking points like in the first corner where I've already made three mistakes so far. But now I think I understood where the limit is. But it was a good day and we are closer than usual to the top after day one and I really feel confident with the new chassis, especially on new tyres, so we will work hard tonight and hopefully go straight into the second qualifying session tomorrow."