Progress made in San Marino MotoGP qualification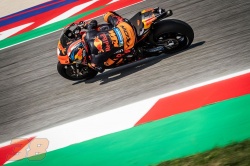 Posted on Sep 08, 2018 by Red Bull KTM Factory Racing
Red Bull KTM MotoGP Factory Racing Team made clear gains in their efforts during the first two days of action at the Misano World Circuit Marco Simoncelli. Bradley Smith and Espargaro took 17th and 20th positions on the grid for the thirteenth MotoGP of 2018.
After the false start of the rain-hit British Grand Prix, MotoGP moved to warmer climes on the coast of the Adriatic Sea and for the second visit to the Italian mainland this season. The Grand Prix di San Marino e Della Riviera di Rimini was unsettled by some heavy stormy showers on Friday evening that left the track in mixed conditions for Free Practice 3 this morning: Bradley Smith hit the floor in the damp while pushing for a fast lap in the final minutes.
A drier FP4 led straight into Q1 for the Red Bull KTM crew. Pol Espargaro was back in the saddle of his #44 racebike after making a recovery from the collarbone injury and other complaints but was still not 100% fit and was struggling to get comfortable to push for rapid lap-times. Pol managed the 20th quickest chrono effort. Smith meanwhile continued to work with the latest set of ideas and modifications for the KTM RC16 and sat 17th at the end of Q1 with an improvement of 1.5 seconds compared to last year!

Bradley Smith (Factory Rider MotoGP):
"We made a good step from yesterday – 0.8 on the best lap-time and another 0.5 for (race) pace – so for that I'm pleased. If we look at last year then we can say this is a 'weak' track for us so we actually turned it around to be a normal weekend, and this bodes well for the race. I'm still undecided about tyre choice. It will depend on the temperatures and we cannot foresee how the track will be after Moto2 but we know from previous races it is a bit of a struggle going after them. We're busy in the pitbox and we are learning as we go. It is not easy to bring new ideas to a racetrack at the weekend so we are doing well. It is exciting going into the second half of the season and the remaining races and we can keep on climbing to the top."

Sebastian Risse (Technical Director MotoGP):
"We had a test recently and we are trying to implement some changes and modifications into the bike before the overseas races to have a stable situation with regards to the logistics and the components we are using. We will try to introduce some into the race but of course the situation was difficult with Pol coming back from injury and generally this track is also tricky for us. In the end I think we can be quite happy with where we are: it's not great but it is not a disaster. It is definitely an improvement over last year. We'll see how we get-on over the race distance tomorrow and tyre choice will key: let's see who does it best."

Races: September 9, 2018 – Moto3 11:00 | Moto2 12:20 | MotoGP 14:00 CET