Red Bull KTM Factory Racing makes successful MotoGP debut in Qatar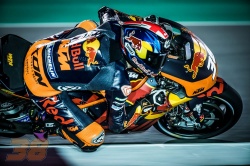 Posted on Mar 27, 2017 by Red Bull KTM Factory Racing
The Red Bull KTM MotoGP Factory Racing Team on Sunday night completed a successful debut ride in the premiere MotoGP class of the World Championship in a night race at Qatar's Losail International Circuit with both Bradley Smith (GBR) and Pol Espargaro (ESP) finishing their first race on the KTM RC16.
KTM's two factory riders brought the brand new KTM RC16 machines home in 16-17th place in a race that represented another important step in the Austrian brand's impressive, and still relatively short development program. Smith also improved his lap time (1:57:365) in the race compared to his 1:57.654 in the third free practice session.
Bradley Smith (Factory Rider MotoGP):
"The lap times and the gap to the front guys were better than we expected, and in those conditions, we saw a lot of guys making mistakes so we're very pleased with what we were able to do today. In general, we did the best we could, and a big thanks to the KTM and we'll see what happens in Argentina."

Smith also underlined that the weekend had produced a lot of important data for the team and this would be studied intensively and used to make improvements before the next race.

Pit Beirer (KTM Motorsport Director):
"Today we are here in three classes. We participated in MotoGP with two riders and it was such a unique moment for our company. This team is so amazing. We have been together for such a short time. We started from zero, with a blank piece of paper, and everyone has done an amazing job."

Mike Leitner (KTM MotoGP Team Manager):
"We are super happy. It was very important that both riders finished this race. We showed what a big step this is for our company. Everyone has been working very hard and this is the result. We had no technical problems or issues in any of the sessions, or in the race and this is super good. The lap times in the race were really impressive and we didn't expect that."
Leitner said the team would now work hard ahead of the next two races in Argentina and Austin, Texas, which were two new circuits for them.
"We can only do our best and as long as everyone sticks to the plan, sooner or later we will be getting the points," he added.

Next Race: April 9, 2017 – Termas de Río Hondo (ARG)