Red Bull KTM back in action at Sepang test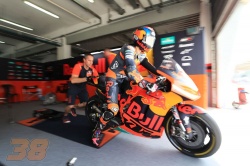 Posted on Jan 30, 2018 by Red Bull KTM Factory Racing
Sepang hosted the opening MotoGP test of the year and saw the Red Bull KTM Factory Racing team back on track for the first time in 2018. A crash ruled Pol Espargaro out of action for the final of total three days but the test saw plenty of positives for the team with Bradley Smith and Mika Kallio able to work through an extensive testing programme.

Mike Leitner (Team Manager MotoGP):
"This was a good test and there are a lot of positives. It was a shame that Pol crashed because it was a small mistake that had a big impact on our week. Anyway we have been able to do some basic work and it looks as though it is easy to set a fast laptime and to be able to keep a constant rhythm. The potential of the bike leaves us positive because we have been able to set some fast times but we know that there is still work to be done to be competitive at the start of the season. Our target is to be ready for Round 1."

Bradley Smith (Factory Rider MotoGP):
"Obviously it's a busy test schedule here in Sepang and after Pol's crash it has meant that myself and Mika have had to work through a lot. It's been a chance for us to evaluate a lot of different things and to give us a direction on what to do. On Day 3 the grip was a little less and that means that it's good conditions for us to test in. Usually when the track gets grippy and hot we struggle a little bit so it's been good to have these conditions. I'm generally quite pleased with what we've tested because I think that we've got a good base to work with at the Thailand tests in a few days time."




Sebastian Risse (Technical Director MotoGP):
"Our target for this test was to compare the baseline specification 2018 bike to what we finished last season using. The new bike has some areas that work quite well and we were able to get more comfortable with the bike. The conditions in Sepang are always a little difficult because you have to adapt to the weather and change your test programme each day accordingly. It was a good test and we found some positive direction that we can work further on. This test is almost seen as a double header for us with the Thailand test and it will be very useful to be able to compare the feedback from Sepang and Thailand. To have two different tracks to compare the data on is always good."


The Red Bull KTM Factory Racing team will be back at track with both factory riders middle of February for another three-day IRTA test on Chang International Circuit in Thailand, which is new in this years MotoGP calender.


Combined Results MotoGP IRTA Test Sepang International Circuit 2018
1. Jorge Lorenzo (ESP), Ducati, 1:58.830 min, 109/130 laps (Day 3)
2. Dani Pedrosa (ESP), Honda, +0.179 sec, 121/170 (Day 3)
3. Cal Crutchlow (GBR), Honda, +0.222, 94/141 (Day 3)
4. Andrea Dovizioso (ITA), Ducati, +0.339, 83/118 (Day 3)
5. Jack Miller (AUS), Ducati, +0.516, 98/123 (Day 3)
17. Pol Espargaro (ESP), KTM, +1.432, 46/61 (Day 2)
18. Mika Kallio (FIN), KTM, +1.634, 112/122 (Day 3)
19. Bradley Smith (GBR), KTM, +1.690, 82/158 (Day 2)