Red Bull KTM clinches 5th in MotoGP manufacturers title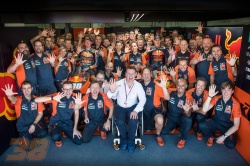 Posted on Nov 12, 2017 by Red Bull KTM Factory Racing
KTM have written more history today as their debut season in MotoGP came to a crescendo with Red Bull KTM MotoGP Factory Racing clinching fifth in the manufacturers title. It is the perfect springboard for KTM to go into testing for the 2018 season that starts this very week in Spain following on from the final round in Valencia.
Red Bull KTM Factory Racing had a target at the half way point of 2017 to get a top 10 finish in the second half of the season: They did just that at the very first race back from the summer break, and in total have been inside that target top 10 no less than seven times. Bradley Smith took 11th today and crucial points in the manufacturers championship to take KTM to fifth in the table of six top flight manufacturers who battle in the premier class of MotoGP.
Pol Espargaro had a rare tumble today as did Mika Kallio in the race, but they did so on a day when many had big offs. For Espargaro though, his highlight this year was a ninth in Brno and a sixth on the grid in Australia. Kallio's best was a tenth in Spielberg during one of his four wildcard appearances while Smith's racing best was tenth in Misano and Australia.
The team now has five days of testing at Valencia and Jerez with the KTM RC16 before the winter break and the resumption of testing next year before the first race in Qatar on March 18th.

Bradley Smith (Factory Rider MotoGP):
"That was a special day and to be able to overcome Aprilia was very special for me. I went head to head with Aleix (Espargaro), giving it everything I could to ruffle his feathers a little and that seem to work. I did my job and I kept the pressure on. The race was good as I hit my marks all I could and hold a mid-32 lap time, then it was a case of survival as the tyres went away with others losing the front. Another very close to top ten finish today keeps our top 11 every race since Brno so roll on the work for the tests prior to the break; 2018 is not far away!"
Mike Leitner (Team Manager MotoGP):
"We all our proud of this first KTM MotoGP season, especially the second part of the year. I must say once more thanks to all the effort from so many individuals, especially the riders who've pushed hard but today it was Bradley who scored the points to get us fifth in the manufacturers championship. Of course it wasn't great Pol had to start from the pit lane but that's a reason of the pace of our development with the new chassis. Mika tumbled off but many others went down today so it wasn't easy. Now we focus on a good winter test and look to 2018."
Final Standings MotoGP 2017 after 18 of 18 races
1. Marquez, 298 points (2018 MotoGP World Champion)
2. Andrea Dovizioso (ITA), Ducati, 261
3. Maverick Viñales (ESP), Yamaha, 230
4. Pedrosa, 210
5. Rossi, 208
17. Espargaro, 55
21. Smith, 29
24. Kallio, 11
Final Standings MotoGP Constructors 2017
1. Honda, 357 points
2. Yamaha, 321
3. Ducati, 310
4. Suzuki, 100
5. KTM, 69
6. Aprilla, 64
Final Standings MotoGP Team 2017
1. Repsol Honda Team, 508 points
2. Movistar Yamaha MotoGP, 438
3. Ducati Team, 398
4. Monster Yamaha Tech 3, 258
5. Octo Pramac Racing, 188
6. Team Suzuki Ecstar, 130
7. EG 0,0 Marc VDS, 117
8. LCR Honda, 112
9. Pull&Bear Aspar Team, 107
10. Red Bull KTM Factory Racing, 84
11. Reale Avintia Racing, 73
12. Aprilia Racing Team Gresini, 67