Red Bull KTM Factory riders battle in Mugello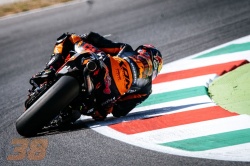 Posted on Jun 04, 2017 by Red Bull KTM Factory Racing
8 time Motocross World Champion Tony Cairoli was watching as the MotoGP race got underway with the Red Bull KTM Factory Racing of Pol Espargaro fighting hard with a new chassis he and Bradley Smith were using this weekend on the KTM RC16. Unfortunately an electrical problem meant Pol's pace couldn't be held, ultimately leading in retirement. Smith had a rear brake problem from the halfway point but he adapted his riding to finish 20th.

Bradley Smith (Factory Rider MotoGP):
"We kept on working on the bike right up until the race, but when I started it was with a slightly different setting that took me a little too long to get the right feeling with before I started to pull in the gap to Abraham and Baz. Unfortunately the rear brake started to give me trouble from the half way point before I then had nothing. For the KTM it's crucial to make the bike work with a rear brake so it's a frustrating way to finish the weekend but, we learnt a great deal and around such a difficult, technical track, that's so similar to Austin, I think we did a better job here than in the USA. Looking forward, we now move on the Catalunya in a few days time and fight on."

Mike Leitner (Team Manager MotoGP):
"We knew that in our first season we'd have days like today, but today, especially on Pol's side, it would've been good to get some points but he had some electronic problem that we don't yet know the cause of. We will analyse this but I'm sorry for him. It's a shame as the team worked hard before this problem; they really made good progress during the practice sessions where the lap times were coming. In the race, Pol was battling with Miller and Folger before this problem appeared but then he stopped as he didn't know what the problem was and didn't want to risk anything. With Bradley, he was struggling a little more over the weekend but for the race he felt better on the bike, however in the end he couldn't quite stay with the group ahead as he had a rear brake problem. Overall what is clear is that in general we are stepping forward and it looks like we have found a step forward again with the set up of the bike. We knew Mugello was going to be difficult for us, but with the overall package we are progressing."

Next Race: June 11, 2017 – Barcelona-Catalunya (ESP)