Red Bull KTM ready to race after final pre-season test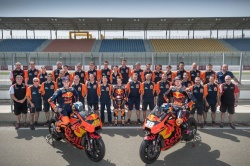 Posted on Mar 04, 2018 by Red Bull KTM Factory Racing
The lights went out on the 2018 MotoGP pre-season with the third and final official IRTA test at the Losail International Circuit in Qatar; scene of the first Grand Prix of nineteen in two weeks time. Across three days Red Bull KTM Factory Racing Team completed key set-up work at the track that will very soon bring all the MotoGP teams together once more.
Bradley Smith and Pol Espargaro took to the Losail asphalt between 13.00 and 21.00 each day. Espargaro courageously returned to the KTM RC16 after recovering sufficiently from his fall and back injury sustained in the initial test of the year in Sepang, Malaysia at the end of January. The Spaniard rode on the first day, rested on the second – with test rider Mika Kallio occupying the saddle to continue work with the KTM in his absence – and then felt fit enough again to circulate at pace for the final session and set his best lap-time in that period to culminate a positive trajectory of effort and feedback.
Smith had a small crash on the second day but – as with Espargaro – was back on the pace and marking his quickest effort by Day 3 in surprisingly cool conditions, particularly as the Qatar sunshine dipped and dusk arrived. The final hour saw the track artificially 'soaked' to simulate a possible rain-affected track.

Mike Leitner (Team Manager MotoGP):
"We had many ideas for these nine days of testing in total and we went to three very different tracks, one of which was completely new to us. To make a bike better it helps to have stable conditions and we had rain in Malaysia and then Pol's crash and we really missed him in Thailand. However we were really happy that he could come back on the bike and although he wasn't 100% I think it was good for his head that he was able to ride again before the first race. Bradley and Mika did a great job for us and Bradley is performing very well. I think we have found a good package but of course we will continue to improve this bike during the year. The team on the race track have worked well but so have the guys in the factory and it is not always easy for them because we are pushing and requesting things. Time is a big factor in racing and it can sometimes be tough but I think everyone can be proud and we can look ahead to our second season."

Bradley Smith (Factory Rider MotoGP):
"It's nice to finally finish the tests and iron out some of the details ready for the start of the season. It was good to also keep within that 1.1-1.2 gap to the front and, like Thailand, we were able to improve at the same rate as the other manufacturers and that means the Red Bull KTM team are reacting and doing a good job overnight. Getting under that last second is a nice little target for us but I think we are already 1.2 second faster than we were last year here, so we have to be very pleased. We've made good progress over the last twelve months and we can be proud. We'll now see what the race weekend brings. We are as prepared as we can be. We rode in the wet here and the lights and visibility doesn't seem to be too much of an issue for the riders but the drainage could be a problem. Aquaplaning is never fun! We'll see what happens because I think it will be exceptional circumstances if we actually get out in the rain here."

Sebastian Risse (Technical Director MotoGP):
"It is hard when you have two months without testing and a lot of things in your mind! I think we worked through it well and brought things together. To have Pol back was really important and although he wasn't 100% the results showed he was not that far away. We sorted out the configuration of the bike, which means when it comes to the race weekend we can focus on standard work of settings, tyres and the conditions and it will help us to move forward a lot."

Qatar signalled the end of a crucial winter and off-season stint for Red Bull KTM where ideas, data and further experience were banked ahead of the factory's second season on the MotoGP grid. After a year of learning and rapid progression this was the next phase of being truly READY TO RACE at the highest level. The Grand Prix of Qatar will begin on March 16th. The race taking place at the slightly earlier hour of 17.00 (local time) on Sunday 18th.
Combined Results MotoGP IRTA Test Losail International Circuit 2018
1. Johann Zarco (FRA), Yamaha, 1:54.029 min, 130/154 laps (Day 3)
2. Valentino Rossi (ITA), Yamaha, +0.247 sec, 141/148 (Day 3)
3. Andrea Dovizioso (ITA), Ducati, +0.302, 123/139 (Day 3)
4. Cal Crutchlow (GBR), Honda, +0.428, 125/153 (Day 3)
5. Maverick Vinales (ESP), Yamaha, +0.442, 154/156 (Day 3)
14. Bradley Smith (GBR), KTM, +1.150, 155/160 (Day 3)
20. Pol Espargaro (ESP), KTM, +1.460, 91/103 (Day 3)
25. Mika Kallio (FIN), KTM, +3.189, 50/56 (Day 2)