REV'IT Knee Slider Competition Winner!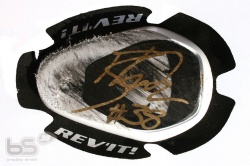 Posted on Aug 02, 2012 by George Penny
In May we launched an exclusive competition to win a REV'IT Knee Slider, used and signed by Bradley.
The criteria for the competition was simple. Purchase an official BS38 sticker sheet and then submit an image of where your BS38 sticker had been applied, being as creative and 'thinking outside the box.
All shortlisted images can be seen in the gallery here
With Bradley being away with 3 European races back to back, it's taken a little longer then expected,
but we are pleased to announce Kevin Lane as the winner with his entry below.