Ridethecounty charitable ride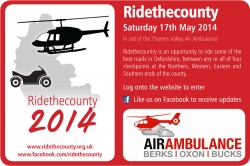 Posted on Mar 03, 2014 by George Penny
Ridethecounty is an opportunity to ride some of the best roads in Oxfordshire, between any or all of four checkpoints at the Northern, Western, Eastern & Southern ends of the county.
How you get between these points is up to you. Pick the most convenient of the four checkpoints to start from and plan your own route from there. You can discuss potential routes in the forum on the website.
THIS IS NOT A RACE OR RALLY!!!
We are simply providing the opportunity to ride legally between suggested points and end up at a common finishing point, the H-Cafe at Berinsfield, Oxfordshire's favourite biker meet. Of course it's not just about the ride, the main object is to raise funds for the Chiltern air ambulance based at Benson, a stone's throw from the H-Cafe.
Entry is just £10 per bike and you can also download a sponsor form to raise additional money. You can get sponsored per mile, per checkpoint or just a one off sum for the ride. Each checkpoint will have a stamp available to mark your sponsor form to show which ones you have been to.
For more information check out: ridethecounty or Facebook