Seclin Motor Show 2014 Gallery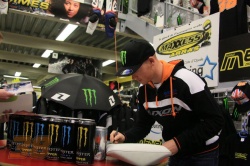 Posted on Apr 09, 2014 by George Penny
Ixon ambasador Bradley Smith had the opportunity to meet his french fans at the Seclin Motor Show last weekend along with Moto2 rider Louis Rossi.
The bike event took place at participating dealers Dafy Moto, Motoland, Mcom Moto and Maxxess in Seclin near Lille in France.
You can visit the gallery here.