The second year push: Red Bull KTM eye 2018 MotoGP success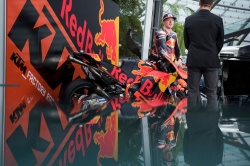 Posted on Mar 12, 2018 by Red Bull KTM Factory Racing
Red Bull KTM Factory Racing Team used the exquisite confines of the Hangar-7 facility in Salzburg today to officially talk about their goals and feelings ahead of a momentous nineteen round 2018 MotoGP campaign that begins in just a few days at the Losail International Circuit in Qatar.
Almost twelve months ago at the desert-set racetrack KTM began their MotoGP adventure with Bradley Smith taking 17th place. At the second round, Smith was in the points again and by the end of the year a total of seven top-ten classifications had been toasted by the team. It was a year of rapid progress and accomplishment.
As the second season readies for launch Red Bull KTM are prepped to reset and push onto the next level. 27 year old Smith is fully charged after a winter period free of injury.
With the latest configuration of the KTM RC16 fettled and READY TO RACE the operation, led by Mike Leitner, is also primed to tussle for points and prizes once more in the elite of motorcycle racing.

Hubert Trunkenpolz (KTM CSO):
"We're proud to be going MotoGP racing again because competition is really part of our DNA. MotoGP is the 'crown' of motorcycle racing and it really spreads the brand. We can see that it pays off and it's fun as well. We are grateful for our partnerships and those that have supported us all the way to bring this MotoGP goal to life. We see this as an investment for the future and we have a lot of experience in moving from racing to serial production. There are also a lot of benefits for R&D from which our customers will be able to benefit."
Pit Beirer (KTM Motorsport Director):
"We are already very proud with what the team at home, on the track and riders themselves have achieved but there is no time to sit still and we have pushed hard this winter to make the next step and put the riders in a position to fight this year. MotoGP has been an adventure and we are happy with where we are at the moment: we will keep the speed up, it's our passion. It is amazing how tough MotoGP is: if you are within one second of the top guys you can still be out of the top fifteen. We knew this though and wanted the challenge. We have close partners, great relationships and a strong group and now we need to make the next steps. I'm happy that our structure – all the way from the Red Bull Rookies Cup to the premier class – is in place and that will mean four bikes on the grid in MotoGP in 2019. It's pretty cool that a rider can stay with the Red Bull KTM family through the classes. We want to enjoy 2018 because we have worked really hard behind the scenes."
Mike Leitner (Team Manager MotoGP):
"We had some major steps to make in 2016 when we started with a blank paper and had to think about a bike. You need good technicians for that but there is real power and energy at KTM. In 2017 we started racing and the level of competition in MotoGP means that you find out about the small pieces you are missing; you don't get that through testing. We made really good steps on engine and with lots of chassis work and with suspension. This winter we did a lot of work, and the rider feedback was good with the direction we have taken. The competition will not be sleeping so we will see where we are in these first races. If everything goes in a good way for us then we can start where we finished 2017 and then the riders can push."
Bradley Smith (Factory Rider MotoGP):
"I'm back to normal and back to feeling comfortable, making progress and gaining confidence. We managed 14 days of testing this winter: so lots of laps, understanding and improvement. Of course the process never finishes. We were improving in every test and that's all we can ask for. It is exciting starting the season in this shape and if we put everything together then we can start where we left off; and that is not 'a given' as everyone else has been working. What a story it would be to take this bike from those positions in Qatar last year to a podium or maybe a win. We believe in everyone around this project and they also believe in us."

The 2018 FIM World Championship gets underway with the very first practice session of the year at 14.45 local time (GMT+3) in Losail on Friday 16th March. Red Bull KTM will work across the two days to be fully READY TO RACE by 21.00 on Sunday evening.