Seventh row for Bradley at Le Mans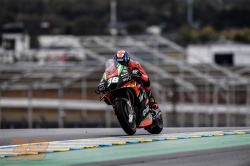 Posted on Oct 10, 2020 by Aprilia Racing Team Gresini
The sunshine that riders and staff had hoped for finally brightened the French Le Mans track, but not enough to warm up the asphalt and provide the best sensations. Grip and tyre temperature were the two terms used the most during qualifying, with particular concern in view of the race tomorrow which, to top things off, will start at 1 in the afternoon, local time.
For the Aprilia riders, these difficulties made for hard work, both able to demonstrate decent pace, but less incisive in the search for pure performance. Bradley contained the gap behind the best during FP4, the most indicative session in terms of the race, but he had to settle for the seventh row in qualifying.

Bradley Smith:
"We struggled this morning, but the guys worked hard between FP3 and FP4 and I gained a bit of feeling. In FP4, I followed Aleix for a few laps, also managing to identify where he is able to be faster and I got close to his performance overall. I am also satisfied with my qualifying time, especially because I did it on my own and the slipstream can really make a difference here. Obviously, if we look at the positions, our limitations are clear and they are certainly not mitigated by the characteristics of this track and the weather conditions. We'll have to be very careful tomorrow. It looks like there will be low temperatures for both warm up and the race and, while the rear doesn't pose a big problem, it will be hard to keep the front up to temp."