Site updates live on BradleySmith38.com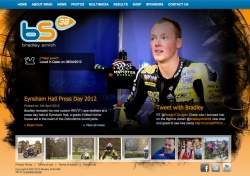 Posted on Apr 05, 2012 by Pixel Pixel
Creatable Design & George Penny from the BS38 Team have now completed the changes to Bradley's website.
Current changes we have made:
Homepage layout and extra features.
You can see straight away when the next event will be.
Added the ability to share news articles across multiple networks.
Updated the photo viewer so you can now scroll through photos (this does still run a slideshow but you are now able to click through too).
Results page now displays official track maps with circuit details.
Multimedia videos popup in a friendlier way.
We will now be posting social events that Bradley will be attending to the results / events section so you can keep up to date there.
George has been hard at work getting all the results up to date and adding archives for 2006 / 2007 so Bradley's entire career will soon be available on the website.
George has also been keeping the photo archives up to date with loads of old photos from previous years through the off season.
Changes we have planned for the future:
Mobile website – This is the next item on our agenda so keep an eye out for the news update throughout the season.
What's more, you can now buy BS38 Sticker sheets via the Bradley Smith 38 shop! Go get some.
We would like to personally thank all the fans for their feedback and suggestions with the site and we hope you enjoy the changes we have made. We heard you!
Should you spot any issues we would love to hear from you with details of what the problem was and as always any improvements you would like seen on the website, feel free to email support (at) creatabledesign.co.uk