Sixth row start for Red Bull KTM after rain-lashed qualification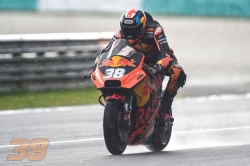 Posted on Nov 03, 2018 by Red Bull KTM Factory Racing
The rain poured at a crucial time for qualification at the Grand Prix of Malaysia and the penultimate round of 2018 MotoGP, leaving the Red Bull KTM duo of Pol Espargaro and Bradley Smith to splash around the Sepang International Circuit to take 16th and 17th positions on the grid for tomorrow's eighteenth race of the year.
Moving north from Phillip Island to reach the popular climes of Sepang brought MotoGP to the third round in three consecutive weeks and the second-to-last Grand Prix of a long season that begun with the first official test back at the Malaysian circuit in February.
Through the heat and humidity, Red Bull KTM Factory Racing Team worked hard for the mix of heavy braking zones and fast curves of the Sepang course and again hovered around their habitual position just outside the top ten of the premier class pack.
Grey skies looked ominous for the qualification schedule earlier this morning. The riders enjoyed a dry FP4 and managed just half a lap of Q1 before the heavens opened and the circuit was flooded with excessive standing water. Red flags called the session to a halt as Bradley Smith and Espargaro immediately returned to pitlane. After a sizeable delay both Espargaro and Smith could squeeze in two short runs in the wet on their KTM RC16. Smith in particular was frustrated as a crash at Turn 11 ruined his chances of a Q2 slot and Espargaro opted for a Medium tyre choice that didn't quite pay off.

Bradley Smith (Factory Rider MotoGP):
"A bit of a missed opportunity and those are the ones that hurt the most. If we had made it through to Q2 then I think the front few rows were possible and life might have been a lot easier for tomorrow. I feel I have the pace and FP4 was one of my better sessions in the dry. If it's wet tomorrow then we'll keep everything as it and hope for the best."

Sebastian Risse (Technical Director MotoGP):
"It's clear we were struggling on this track but we did make progress and saw some light at the end of the tunnel in FP3. We were disappointed that it rained but we also saw that it presented a chance for us. It meant making some quick decisions about tyres and with hindsight not right ones but you have to start somewhere. We learned a lot in the wet today and I think we can be confident if it is a wet race. We're missing some track time to finalise the package for the dry but we'll use warm-up and see where we end up."

UPDATE Races: November 4, 2018 – Moto3 10:00 | Moto2 11:20 | MotoGP 13:00 GMT +8h