Smith and di Meglio thrill French fans in Le Mans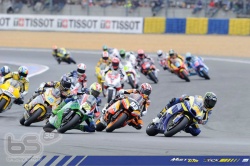 Posted on May 15, 2011 by Tech3 Racing
Bradley Smith and Mike di Meglio produced trilling Moto2 performances in the Tech3 Racing Team's home race at the legendary Le Mans circuit today.
British rider Smith stormed to his third top ten finish in four races after he produced a gutsy ride in the 26-lap race, while di Meglio was unfortunate to see his amazing top ten challenge ended by a late crash.
Smith made a fantastic start and a series of superbly crafted overtakes saw the 20-year-old claim nine places on the opening lap. Smith was then locked in a close and exciting eight-rider battle involving eventual winner Marc Marquez in the early laps.
Once at the front of the pack, Smith brilliantly capitalised on clear track in front of him to begin an impressive surge away from the chasing group, which included fellow British rider Scott Redding and pre-season Moto2 title favourite Alex de Angelis.
He was also able to comfortably pull away from circuit specialist Jules Cluzel, despite riding with heavy strapping on his right ankle after he was taken down in an incident involving Axel Pons in the final stages of yesterday's qualifying session. He lost a richly deserved eighth place just three laps from the end when Dominique Aegerter passed, but Smith rode a stunning last lap to fend of a dogged challenge from de Angelis.
Bradley Smith 9th – 27 points
"After the crash in qualifying I was in quite a lot of discomfort last night. My right ankle took quite a big hit and I had to ride with it heavily strapped so there wasn't much movement and that gave me the support I needed. I had an unbelievable start and really committed myself at the first corner. I made up a lot of places and it was a good fight. Once I got to the front of the group I didn't find it too hard to pull away from Cluzel. The bike was working great and it was a shame I just couldn't hang onto eighth. I upped my pace at the end but Aegerter and de Angelis definitely had something extra in the last couple of laps. My tyre hadn't dropped off and I was doing the same lap tim es, but they just went much quicker. Aegerter passed me and I couldn't stay with him but I'm pleased to have kept Alex at bay because he is a very fast rider. The big positive is that I'm only 20 seconds behind the race winner and that's the closest I've been all season. And my time on the last lap was only 0.3s away from my best. That shows I've got the pace but also the consistency."

Herve Poncharal – Team Manager
"This was not an easy race to watch for a Team Manager, but I hope the French fans were entertained by the Tech 3 Racing Team today. Bradley had a really good start and made his way through the group quickly and he had a consistent pace. So if the qualifying goes better in the future I have no doubt he can be fighting with the front group. It is his first season in this class and after four races he is already eighth in the Championship and I am very happy about that. With the problems from yesterday and the pain in the foot from the crash, Bradley did a fantastic job. It is a pity that Mike crashed as he rode an incredibly strong race. He had to start from 27th on the grid, which is not easy, but he managed to get his way through to fight for a top 10 finish as well. Unfortunately he made a mistake and crashed when he was pushing hard for a top ten, which he really deserved. But he was very fast during the race and I am happy that he showed his potential once again."