Smith back in action at second Sepang test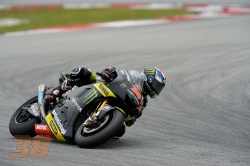 Posted on Feb 26, 2013 by Monster Yamaha Tech 3
Bradley Smith enjoyed a positive start to the second MotoGP test session at the Sepang International Circuit today, the Monster Yamaha Tech 3 Team rider finished inside the top 10 on a rain-hit first day.
Smith quickly established himself inside the top 10 as the British rider continues to build up his experience on board the YZR-M1 machine.
He was lying in 10th position and he had just set a personal best time of 2.03.632 when he crashed on his 25th lap. Smith walked away unhurt from the spill which came after he lost the front-end of his YZR-M1 machine in the third gear Turn 7.
Smith was preparing to return to the track this afternoon but torrential rain started falling with just over three hours of track time still available. Heavy cloud cover meant the Sepang International Circuit was slow to dry and further heavy rain later in the day meant both Crutchlow and Smith opted to take no further part in proceedings.
Bradley Smith 10th 2.03.632 – 24 laps:
"This morning was another good learning process for me because the track condition was completely different to the first test. It was dirty and slippery and it meant that I had to ride smoothly, which is how I need to be riding this bike all of the time. I've been a little too aggressive but in those conditions I had to ride the bike in a completely different way. The crash was another part of the learning process too. I'd had a couple of warnings in the previous two laps but I kind of shrugged them off because I'm not sure what the limit is. Now I know the limit although a crash is never ideal. I'd done all my laps on the same set of tyres and now I know what the warning signs are I'll be better prepared in the future."