Smith battles for pole position at Sachsenring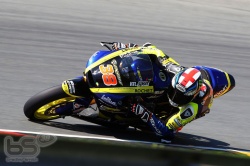 Posted on Jul 07, 2012 by Tech3 Racing
Tech 3 Racing Team rider Bradley Smith will start tomorrow's Sachsenring Moto2 race from ninth position after challenging for pole position in a rain-affected qualifying session.
Simeon and Smith demonstrated the high potential of the French-built Mistral 610 machine in tricky conditions to occupy the top two places on the timesheets in an exciting qualifying session.
The Moto2 field managed to avoid the torrential rain that played a key role in the earlier Moto3 and MotoGP sessions but the surface was still treacherously wet and posed a difficult challenge for Bradley.
British rider Smith saw an opportunity to score his first front row start of 2012 slip from his grasp when he succumbed to the tricky conditions while aiming to improve his best pace of 1.35.238.
A small crash cost him precious track time and Smith slipped down to the third row. Having finished third quickest in practice though the 21-year-old is optimistic that he will be competing for a second successive top six finish in tomorrow's 29-lap race.
Bradley Smith 9th 1.35.238 – 16 laps:
"I've got mixed emotions because I missed a lot of track time at the end because of the crash but I am still on the third row and that means I have a chance of a good result tomorrow. Overtaking on this tight track is very difficult and any further back makes it very difficult to go with the leading group in the early laps. But I'm also disappointed because today was a great opportunity to be on pole position. I am sorry to my Tech 3 Racing crew because it was my mistake and we missed a great chance to be the fastest rider today. It can happen when you are pushing hard in tricky conditions like that and I am confident that in the wet or dry tomorrow I am going to be very competitive. Making a good start will be crucial to stay out of trouble at the tight first corner and hopefully we can be battling close to the podium again like in Assen last weekend."