Smith battles hard in muggy Malaysia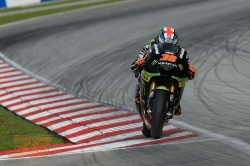 Posted on Oct 13, 2013 by Monster Yamaha Tech 3
Monster Yamaha Tech 3 Team rider Bradley Smith battled hard in baking hot conditions to claim seventh in front of a record crowd of over 84,000 fans packed into the Sepang International Circuit.
Temperatures still hit over 30 degrees, despite heavy cloud cover and a strong wind blowing around the vast Malaysian motorsport arena, when Smith engaged in an early battle at the start of the physically challenging 20-lap encounter.
A brilliant start from rookie Smith moved him ahead of his compatriot on the opening lap before Crutchlow moved back into the top six.
Smith strengthened his quest for a top 10 overall finish in the Championship standings after he rode to a lonely but very valuable seventh position.
The platform for his 10th top 10 finish of the campaign was a terrific launch off the line that put him right on the back of the leading group in the opening exchanges.
Unable to keep himself in the hunt for a third top six finish, Smith kept razor sharp concentration in the extreme heat to streak away from those behind with relative ease and his fastest lap of the race was only just over 0.7s behind Crutchlow's.
The nine-points collected this afternoon could prove vital in the chase for 10th in the final standings, with the 22-year-old now six points clear of main challenger Aleix Espargaro.
The Monster Yamaha Tech 3 Team has little time to catch its breath now, with the squad heading off to Australia for the second of a gruelling flyaway triple-header that concludes in Japan on October 27.

Bradley Smith 7th - 89 points:
"To be honest today was a good way to end a very positive weekend. During the last three days we improved in every single session, we made progress with the setting of the bike and me finishing in 7th position is obviously a pleasant fact for my Championship standing. Today the track conditions were very tricky and with the higher temperatures the behavior of the bike was very different to what I experienced during the whole weekend and it took me awhile to adjust my riding style. But my second half of the race was quite strong and I am pleased with this. Furthermore we improved my feeling on full fuel load where I normally struggled a lot and also finishing the race still seeing Cal and Alvaro was a very positive feeling. So altogether I'm truly satisfied with this event and I will fly to Australia full of confidence and looking forward to the race next week."

Herve Poncharal – Team Manager:
"It was a very tough race but we expected it to be like that in these conditions where it is always so hot and humid. Cal lost a few places off the start while Bradley was sensational off the line again and he managed to get into the top six. Cal fought back quickly and he then had a really strong fight with Alvaro for most of the race and it was a shame that he lost out right at the end. But it was good to see him back on the front row of the grid and it was a solid race. He has been in quite a lot of pain and discomfort with his right arm and I am grateful that he pushed at 100% right from the start and as usual showed his fighting spirit. It was also a very strong race from Bradley. His lap times were very close to Cal and it was not an easy racing being on his own for so long. He kept his pace fast and consistent and he pushed right to the end and he never gave up. That shows how strong his motivation is and how keen he is to learn and progress. He is improving in every race and I am happy with the job he has done all weekend."