Smith battles tricky conditions to start from 5th row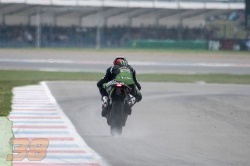 Posted on Jun 25, 2016 by Monster Yamaha Tech 3
Monster Yamaha Tech3's Bradley Smith fought against the elements at the historic Dutch circuit and will begin the 8th round of the World Championship from the fifth row of the grid. The young Briton kicked off his day by continuing his setup work from yesterday before finishing the morning session in 15th, which confirmed his attendance in Q1. Here, Smith got straight to work as he battled against the tricky conditions and he built up his pace as the minutes counted down, before setting a personal best on his penultimate lap. Nevertheless, the 25 year old optimistically looks on to the race tomorrow where he intends to clinch a solid point scoring result.

Bradley Smith: – Position: 14th – Time: 1'48.909 – Laps: 8
"It was tricky out there today, but we gave it everything that we had. It was the first time since Argentina that we had to ride in the wet, and I was quite apprehensive because we didn't have a fantastic setup when it rained there. Anyway the team worked really well today and we tried to undertake a solid strategy by pitting in Q1, yet unfortunately I couldn't tell the guys in the garage exactly what I wanted and we were very short on time! Therefore, we compromised ourselves a little bit by going out on the second bike. Nevertheless, I felt that we had decent pace and Hernandez and Pol who progressed, were really competitive in the second qualifying practice, so I have to take some positives from that as I was close to both of them in the first session. For tomorrow, we have some work to do and we can still improve the bike in different areas in order to obtain a good result for the Dutch fans."