Smith begins recovery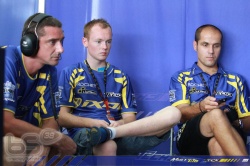 Posted on Oct 22, 2011 by Tech3 Racing
British rider Bradley Smith was back at the Sepang International Circuit this morning to commence his battle to be fit for the final round of the season in Valencia on November 6.
The 20-year-old has been forced to withdraw from tomorrow's 19-lap race after he was one of four riders to crash in the early stages of yesterday's opening practice session.
An isolated rain shower fell at Turn 10 and Smith, Marc Marquez, Yonny Hernandez and Jules Cluzel crashed after hitting the wet section of tarmac on full slick tyres. Smith suffered a broken left collarbone and painful blow to his chest in the accident and he underwent thorough checks in the Pusat Perubatan UKM Medical Centre in Kuala Lumpur before being discharged at 8pm last n ight.
After a comfortable night's rest, Smith visited Clinica Mobile staff earlier today to consult with specialists on the best way to speed up the recovery of his damaged left shoulder in order for him to participate in the final race in Valencia.
Bradley Smith:
"It is a big pity that I can't race tomorrow because I am convinced I would have been very competitive this weekend. But at the same time I'm quite lucky because the crash yesterday could have been worse. Right now I feel a bit beaten up, but already I feel a lot better than yesterday. When I got to Turn 10 I saw yellow flags waving but I thought it was because of the crashes before me. I slowed down and the next thing I've seen the wet track and almost immediately I lost control of the bike. The initial crash was bad enough but then I hit Marquez's bike quite hard and I think this is how I broke my left collarbone and also took a big hit on my chest. I didn't really remember anything, so I had to watch a video replay to understand what happened. I've also got a bruised left lung and that is causing me quite a lot of discomfort. I would have flown home last night if possible but I can't fly for 48 hours, so I'll stick to my initial plan and head back to the UK tomorrow night after the race. When I get home I'll have more checks to make sure the recovery is going well but it is too early to decide if I can race in Valencia. The shoulder should be fine but we need to wait and see. Finally I'd like to thank all the medical staff at the Clinica Mobile and the Sepang International Circuit because they did a great job."