Smith blazes to maiden podium in Phillip Island thriller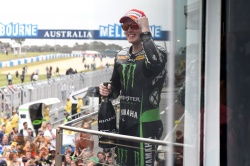 Posted on Oct 19, 2014 by Monster Yamaha Tech 3
Bradley Smith rode an unforgettable race today to clinch his best ever MotoGP result and a debut podium at the Tissot Australian Grand Prix. The young British rider began the Grand Prix at the 4448 meter track from 4th after just missing out on the front row of the grid by 0.006 seconds. He launched forward to run right behind the leading MotoGP bikes before completing the first lap in third, hot on the heels of the front runners.
Smith set into his strong race rhythm as he looked to maintain this position, before being shuffled down the order to 8th due to a few aggressive moves by his competitors which he needed to avoid, to prevent crashing. However the 23 year old remained fully determined in the following laps as he sought to ascend back through the field and he remained firmly in the thrilling battle for 5th with the four other riders.
With three quarters of the race distance covered, the British rider moved into 5th after passing Andrea Dovizioso and as the finish line loomed closer, his consistent and fast times saw him rapidly cutting the gap to third place. The tireless efforts undertaken by the Tech3 rider were rewarded as he relentlessly pushed further before screaming over the finish line in 3rd, seizing his first podium since Mugello in 2011 in the Moto2 class. In addition, it was his career best result and ensured a complete Yamaha podium. His strong showing today granted him a rise to 8th in the World Championship standings and leaves him poised for more success in Malaysia next week.

Bradley Smith: – Position: 3rd – Championship: 8th – Points: 108
"For sure it is a fantastic feeling to clinch my debut podium in the MotoGP class and I am so pleased to reach this milestone. Honestly, I wasn't too happy with how I was riding at the beginning of the race, I made several mistakes and lost a few positions. Therefore I told myself to calm down, I improved and moved forward. It's a bit unexpected to be on the podium in all honesty, but after having great pace all weekend, it is the dream way to complete all of the good work we have done recently. I passed the chequered flag and saw the team on the wall, so I thought that I was in 4th or 5th, but then I saw my name in 3rd on the board as I came around the corner, which was an amazing feeling. Now we have closed the gap in the championship to 6th quite considerably, so we need to focus on this for the next two races. There is only a small gap between myself, Pol and Aleix in the standings, so we will aim to continue this great run in Malaysia and try to climb two more positions in the final standings. I must say a big thanks to the team who did a great job this weekend as well as to my sponsors for their support. Moreover, it's a fantastic experience to complete an entire Yamaha podium and I can't be anything other than grateful for their assistance!"
Hervé Poncharal - Team Manager:
"We knew this year was going to be competitive and tough, yet Brad saw the opportunity this weekend and didn't crack under the pressure but brilliantly scored 3rd position. It is his fourth season with the team and to claim a top three in his second year in MotoGP, at this stage of his career, is simply fantastic. It was a challenging race and we knew the tyre would play an instrumental role today. Valentino and Bradley took the extra soft compound which was ultimately the right decision and they both reaped the rewards. It was a great weekend for Yamaha to have a complete podium and also for Monster Energy, who we need to say thanks to as they also had three riders on the rostrum. Now, we will get ready for Malaysia where both of our guys will be competitive once again."