Smith claims MotoE runner-up spot after exciting season finale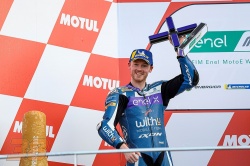 Posted on Nov 17, 2019 by One Energy Racing
An exciting last race of the season saw Bradley Smith claim his second podium of the weekend at the Ricardo Tormo Circuit. The ONE Energy Racing rider fought for the victory until the end and with his second place claimed the runner-up spot in the first ever of MotoE World Cup season.
Just as he did on Saturday, Smith made a great start in the last race of the campaign, taking the lead and escaping by more than a second after the first lap. However, little by little he lost the advantage over his main pursuer, and the victory would be decided on the final lap. Smith was strong throughout, attacking the lead on several occasions and taking the battle to the last metres of the season.
Finally, the ONE Energy Racing rider crossed the finish line in second position, a result that makes him runner-up in the 2019 MotoE World Cup with a total of 88 points.

Matteo Ballarin:
"It has been a very positive weekend. We have had two exciting races here in Valencia, in which we were able to fight for the victory and finish both contests in second place. In addition, today we were closer than ever to getting the win. In the end we didn't manage it, but we did something historic, finishing runners-up in the first ever MotoE World Cup, so we have to be very happy. I want to thank Bradley Smith, the mechanics, the entire team and the sponsors; They have all made a great effort and have worked very hard throughout the season. It has been a very positive year and we are very happy."

Bradley Smith:
"I'm very happy, because we were able to put on a great show at the last race of the season. There were only seven laps, but we made the most of them. I felt very strong this weekend, especially entering corners and under braking. At the beginning of the race I had little grip, but as the laps went by I felt better and we were able to provide a great finale. We picked up two second places at the last round of the season and we have also achieved the runner-up spot. I want to thank the whole team, because it has been a great season."