Smith collects hard fought points in Portugal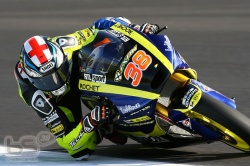 Posted on May 07, 2012 by Tech3 Racing
Tech 3 Racing Team rider Bradley Smith secured a hard fought 10th place at the end of an exciting Moto2 race at the Estoril circuit in Portugal today.
British rider Smith delivered on his pre-race promise to attack from the beginning of the 26-lap race and he gained five places on the opening lap to force his way into eighth position from 13th on the grid.
He was involved in a terrific early battle with 2010 Moto2 World Champion Toni Elias before the frantic action settled down and Smith found himself back in 13th position.
Just two seconds split Smith in 13th and compatriot Scott Redding in fifth with 12 laps to go but the field began to stretch out with tyre wear starting to play a key role in the second half of the race.
Smith continued to show his fighting spirit and determination and he was back inside the top 10 with six laps remaining. But despite his best efforts, the 21-year-old was unable to force his way into a pulsating four-rider battle for sixth position and he had to settle for 10th position.
Bradley Smith 10th – 18 points:
"That was a tough race but I am still reasonably happy to be in the top 10. We made an excellent choice with the tyres. I lost a little bit compared to the guys in front but I could do very consistent times for the whole race. My pace got quicker as the race wore on and this is the most positive thing from today. The result might have been better but I made a small mistake at the first corner with three laps remaining. I was catching the guys in front of me a nd got in Mika Kallio's slipstream and that meant I was a little bit late during braking. The gap to the front is quite big but the guys around me are really good riders and experienced, so we will continue working hard and preparing for Le Mans in two weeks, which is the home race of Tech 3 Racing. It is a huge weekend for Tech 3, so I will be doing my best to be closer to the front."
Herve Poncharal – Team Manager:
"We are quite satisfied with the outcome of today's race because Bradley was not starting from an ideal position on the grid, but both made a really good start and gained a lot of places. Bradley was able to stay with the leading group for the first few laps and as usual he rode with typical grit and determination and never gave up. During the second part of the race he got stronger and without a small mistake in the final stages he might have been able to finish sixth. That was a little unfortunate but a top 10 is still a strong result. Now we can head to our home race in Le Mans optimistic that he can be battling for top finishes."