Smith completes Race 1 podium at Valencia GP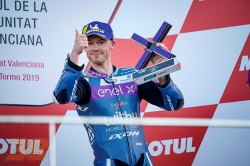 Posted on Nov 16, 2019 by One Energy Racing
Bradley Smith claimed a spot on the podium in the first race of the Valencia GP, held this Saturday afternoon. The Briton, who made a great start, led for several laps, finished third and comes into the last race of the season with his title hopes still alive.
A perfect start from third on the grid allowed Smith to lead the race and escape in the opening stages, ending the first lap nearly a second clear of his rivals. As the contest progressed, however, other riders closed the gap, with the ONE Energy Racing man relinquishing the lead two laps from the end. He continued fighting for victory and the podium until the last corner, crossing the finish line in third place and picking up his third rostrum of 2019, adding to those from Germany and Austria.
Bradley Smith and ONE Energy Racing go into the last MotoE World Cup race of the year in third place, 21 points off the series leader. Race 2 starts at the new time of 3:30 pm local time and will be run over a total of 7 laps.

Bradley Smith:
"I knew I needed two wins this weekend and that is what I went after. On the first two laps I set the best pace I could, but the riders behind were going faster. They cut the gap to 0.8 with some impressive speed. It's frustrating, but we know that we have to improve a little for tomorrow. When I saw Garzo, I knew he was a rival for the title and I focused on fighting with him and scoring some points, but unfortunately those four points that got away from me make the situation for tomorrow different. I thank the team for their efforts. I did everything I could and we will see what happens tomorrow."