Smith concludes Sepang 2 in top form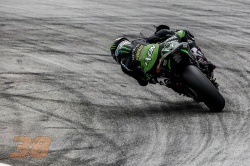 Posted on Feb 25, 2015 by Monster Yamaha Tech 3
Bradley Smith completed the final day of testing at the Sepang International circuit with a confident and notable run to 6th in the combined standings, as he made his MotoGP rivals clear of his intentions for the 2015 season. The British rider had been meticulously testing the 2015 specification Yamaha YZR-M1 across the three days in Malaysia as he made the necessary changes to the setup in preparation for the all important season opener in Qatar at the end of March.
After making the setup adjustments, Smith launched into a hot run today and clocked a best time of 1'59.883 on his 9th lap, expertly dipping below the exclusive 2-minute bracket. This time was a cut of almost a second and a half from his opening performance on Monday and even more impressively, he was only two tenths back from third position in what was a superb and high flying close to the test, after completing 41 laps on the final day.

Bradley Smith: - Position: 6th - Time: 1'59.883 - Laps: 41
"It was a good final day for me, especially to finish in the top 6. The team and I had more or less completed all of our test plans yesterday, but there were a few small things we needed to try today with the electronics and the clutch. So we tested three different ideas, with two of them being definitely an improvement. It's these little changes that can make a different in the race. I am pleased to say that I did a 1'59 lap time, which was my objective for this test and it's positive that I could achieve this. The bike now has a very good base setup, so next we will go to Qatar which is a completely different track and see if we can use the base setup we made here, at Losail. All in all, it was a good test. We're close to being the top satellite bike but Cal is a bit faster, however our pace has been competitive and I am happy with the job the team and I have done here."