Smith concludes successful Sepang test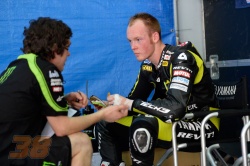 Posted on Feb 07, 2013 by Monster Yamaha Tech 3
British duo Cal Crutchlow and Bradley Smith set the fifth and eighth fastest times at the Sepang International Circuit today to conclude a successful start to the MotoGP winter testing schedule for the Monster Yamaha Tech 3 Team.
Smith produced another fantastic performance and included in his 48-lap stint was an impressively fast and consistent full race simulation, which he completed in searing heat and humidity on the hottest day of the test.
The 22-year-old has made a seamless transition from Moto2 to the heavier and more powerful YZR-M1 machine and his race simulation gave him priceless information on where he can improve when the Monster Yamaha Tech 3 Team returns to Sepang for a further three-day test later this month.
Smith ended with a best time of 2.02.093 today, which was within two seconds of the quickest pace set by Pedrosa and he was only a second away from the top six. His fastest time at the test was yesterday's 2.01.931 that secured him the eighth quickest time overall.
Bradley Smith 8th 2.02.93 – 48 laps:
"I am really happy with the way this test has gone and my lap times and final position have already given me a lot of confidence. I didn't come here with any expectations but to be eighth is where this bike needs to be. I am still not getting all of the potential out of the YZR-M1 but I am gaining in confidence with every lap I complete and it has been mission accomplished in terms of coming here and understanding how the bike needs to be ridden. I still need to be a lot smoother but I am happy to be within two seconds of the fastest time. I knew that was possible but the hard work starts now to close that gap even more. The race simulation was amazing to build up my experience but it was seriously hard work. It was the hottest day and it is very physically and mentally demanding to ride a MotoGP bike at that pace over a long distance. It is hard to concentrate but the best thing was on the last lap I did a 2.02.9 and my best lap was a 2.02.5. So I was consistent and while I need to be faster, I'm really happy to be leaving this test having learned so much. I need a good sleep now to digest all the information I've taken on but already I can't wait to be back on the bike here later this month."