Smith continues positive momentum at Jerez test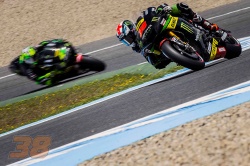 Posted on May 04, 2015 by Monster Yamaha Tech 3
Monster Yamaha Tech3 Team rider Bradley Smith completed a successful and productive post race test at the Circuito de Jerez in Spain today by finishing in 6th position and accomplishing his test schedule. After battling to 8th in yesterday's 27 lap race, the young British rider undertook an in depth test and focused on solving the issues that he was experiencing during the weekend as well as sampling new suspension forks and alternative electronic settings.
The 23 year old rider finished the session under the Andalusian sun with a best time of 1'39.339 after completing a total of 41 laps around the 4.4 kilometre circuit which he set on his final lap of the day. After the positive test, Smith now looks optimistically towards the Monster Energy Grand Prix de France and is fully confident of challenging for the leading satellite rider position.

Bradley Smith: – Position: 6th – Time: 1'39.339 – Laps: 41
"Overall, the test was very productive for us today. After the weekend that we had, we did a great job to fix the issues we were experiencing. The day started in a great way as we found the answer to solve 75% of our troubles straight away during our first run. Yet, at the same time, it's a bit frustrating that we didn't find this solution earlier in the week. However, that's what technical meetings are for and we had a long one on Sunday night. It wasn't until after the race that we thought about this specific idea and after having a look into the data, we put it straight on the bike and it worked. We were also able to try a new set of front suspension forks today which gave me a better feeling in the areas that I was struggling in and that caused me to fall in the practice sessions. All in all, it was a short test as we only did 41 laps, yet we accomplished everything that we set out to do, with electronics and suspension. Now, I look confidently towards the Monster Yamaha Tech3 Team's home race at Le Mans."