Smith courageously qualifies on the 5th row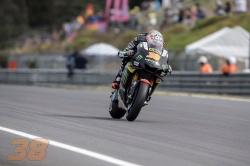 Posted on Oct 15, 2016 by Monster Yamaha Tech 3
Smith who is handicapped by an injury to his right knee, bravely qualified on the 5th row of the grid for the round 15 battle. The young Briton got straight to work this morning and he courageously completed 17 laps as he grew stronger with every run. He set his quickest time at the end of the practice and the performance left him in 20th overall, having improved by nearly four seconds from his personal best lap of the opening session. Later today, in qualifying one, the 25-year-old produced a heroic display as he rode at an impressive pace, despite the limitation with his knee, and he posted his personal best on his last lap out of 4. This time sealed 15th position and now Smith optimistically awaits the race where he will give his all in order to finish the Japanese Grand Prix.
Bradley Smith: – Position: 15th – Time: 1'46.593 – Laps: 4
"We have to be more than pleased with today's qualifying position because 15th is far beyond what we could expect when considering my injury. The team did an excellent job and together, we made some subtle changes to the bike which meant that step by step, my knee felt more comfortable in each session. Of course, qualifying is only a short distance and tomorrow will be much harder with the race being 24 laps, but today's result is fantastic and now I just need to try and rest up as much as possible. For me, the tyre choice is quite clear for both ends of the bike and we have focused a lot on the rear grip, which is very important here because of the big acceleration. We will see what tomorrow brings but I've given myself a good opportunity by qualifying in 15th and the main objective is to get through the 24 laps."