Smith equals season best in Germany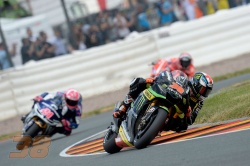 Posted on Jul 14, 2013 by Monster Yamaha Tech 3
Smith's eye-catching ride ensured he played an important role in a landmark result, with today's race the first time two British riders have finished inside the top six in a premier class encounter since the Donington Park round back 1993.
Starting from seventh on the grid, the 22-year-old held onto that place while he was comfortably able to streak away from a chasing pack that included MotoGP race winners Andrea Dovizioso and Nicky Hayden.
He moved into the top six on lap seven and feeling comfortable and confident on the YZR-M1 machine he pushed hard to try and bridge a gap of close to three seconds to Bautista in fifth. He kept the Spaniard firmly in his sights throughout the race but was happy to settle for a richly deserved top six.
The most pleasing aspect for the rookie was the 25-second gap to race winner Marquez, which was the closest Smith has finished to first place in 2013, and provides further proof of his rapidly growing confidence with the YZR-M1 machine.

Bradley Smith 6th– 51 points:
"I am truely happy with this sixth place. I got a good start and I was really pleased with my pace for most of the race. It is particularly pleasing because this is a track where I expected to struggle more because it has a lot of left-hand corners and you are constantly pushing with the left part of your body. That's where my injury is but I felt strong for the whole race. I'm also pleased that we managed to reduce the gap to the winner by another seven seconds and I think 25 seconds is not too bad at the moment. There were so many positives but I had a little bit of an issue with rear grip and I think we can still improve our setting to make that better. I still believe I did a really good job and now the next objective is to get closer to Bautista on the satellite Honda. This result has given me a lot of confidence and I am really looking forward to going to Laguna Seca. It is a very difficult track and while I did test there earlier this year on a production bike I am still expecting a tough weekend."
Herve Poncharal – Team Manager:
"That was another great weekend for the Monster Yamaha Tech 3 Team. I'm really proud of Cal and Bradley because since the beginning of the season they have both been doing an incredible job. Cal was awesome today because even if he had two high-speed crashes on Friday he showed incredible determination yesterday to finish second in qualifying. We knew it was possible to get another big result in the race and he didn't disappoint us. In the early stages the situation seemed to be tricky, but Cal showed once again his fighting spirit and he made some incredible moves and for a lot of the race it was obvious he was the fastest rider. It was fantastic to see him catching Valentino and finally passing him and he could immediately open up a gap. When I saw him second I thought it might be enough, but I knew it would not be enough for him and reduced the gap to Marc. It really was exciting to watch but Marc managed the situation very well, though we can't be disappointed not to win because Cal again demonstrated why he is one of the best in MotoGP now. Bradley too did an incredible job. He is still not 100% fit with his wrist and hand but he has never complained about his injury and today he showed a fantastic pace and great concentration. He was very close to Alvaro, who is a very experienced MotoGP rider, and he fought right from the first to the last lap. And when you see the gap to Marc at the end, he was losing less than a second a lap to him and that is a sure sign of his progress in MotoGP. Now we make the long trip to Laguna Seca full of confidence for what is always a memorable event."