Smith fights for front row at Twin Ring Motegi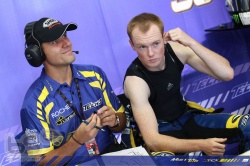 Posted on Oct 01, 2011 by Tech3 Racing
Bradley Smith is confident he can fight for a fourth Moto2 podium finish of the 2011 campaign in Japan tomorrow after he excelled once again in another intense qualifying session at the Twin Ring Motegi.
The Tech3 Racing Team rider will start from the second row of the grid for the sixth time in a fantastic rookie Moto2 campaign after a best lap of 1.52.645 left him just 0.222s away from claiming a stunning front row in fourth position.
Smith ended practice with the fourth best time and he was always in contention for the front row, as he looks to give himself the best chance of a top race result to keep his hopes of claiming third place in the World Championship alive as the season reaches an exciting climax.
The British rider is 20-points behind Andrea Iannone, who currently occupies third in the rankings, and Smith is looking to reduce the deficit by challenging for his first rostrum finish since the Mugello round in Italy in tomorrow's 23-lap race.
Bradley Smith 4th 1.52.645 – 18 laps:
"It has been a very positive weekend so far in Motegi, so hopefully we can finish the job off in the race tomorrow. We made some small modifications to the bike in qualifying which should help my pace in the race and I am really happy with the work we have done. I was constantly in the top five all weekend and this has given me a lot of confidence that I can fight for the podium tomorrow. I have a good pace with a full fuel tank and that is positive as well. I just need one of my good starts again and push hard through the first five or six laps and see how the race unfolds from that point. My target is to gain more points and keep the pressure on the riders in front of me in the Championship."