Smith frustrated by rain at Valencia Test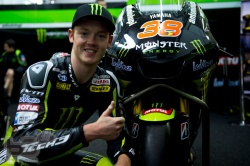 Posted on Nov 15, 2012 by Monster Yamaha Tech 3
Cold temperatures and intermittent rain showers meant the Monster Yamaha Tech 3 Team's all-new British line-up of Cal Crutchlow and Bradley Smith experienced a frustrating start to preparations for the 2013 MotoGP World Championship in Valencia on Tuesday.
Early morning blue skies were quickly replaced by heavy cloud cover and the Ricardo Tormo track had only been open for 10 minutes when rain started to fall.
Rain continued to fall at regular intervals throughout the day and Crutchlow and Smith both opted not to venture out of the Monster Yamaha Tech 3 garage.
The weather disruption proved particularly frustrating for Smith, who was eager to get his first laps on the YZR-M1 machine to kick-off preparations for his rookie year in MotoGP next season.
The 21-year-old sat in his new leathers for the majority of the day but his hopes for an improvement in conditions never materialised. Heavy rain is forecast for the second day tomorrow, but Smith plans to complete some laps to gauge the performance and feel of the YZR-M1 in wet conditions.

Bradley Smith:
"To say I am disappointed is an under statement. I've been looking forward to today for months, so to not even get out on track for one lap is a bit frustrating, but there is nothing I can do about it. When I got in my leathers yesterday and sat on the bike for the first time, it really hit home what a big day in my career this was. It i s a shame that I'm still waiting to try the Monster Yamaha Tech 3 YZR-M1 for the first time but my chance will come. For most of the day the conditions were the worst possible. I was only going to get let out if the track was really soaking so I could get a feel for the bike. It looks the weather is going to be even worse tomorrow but at least I'll get out for a few laps and that will be a bonus."