Smith gets first top 10 in Jerez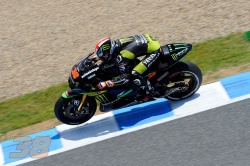 Posted on May 05, 2013 by Monster Yamaha Tech 3
Bradley Smith produced an impressive ride to register his first top 10 finish in MotoGP.
Smith moved into the top 10 on lap 24 with a clinical move to get by Pirro and at that stage he was 1.770s behind Espargaro. He produced a stunning late charge to cut the Spaniard's advantage to less than a second but just as he was lining up an attack to claim ninth the chequered flag came out.

Bradley Smith 10th – 10 points:
"I'm obviously happy with my first top 10 result because conditions for the race were different compared to the rest of the weekend. The lap times were relatively slow and the temperature meant the grip was quite low, so it was a big learning experience for me. Riding these bikes with that little grip needs a different style, so I had to adapt at the beginning of the race. From the middle stages I felt comfortable and I'm a little disappointed to be beaten again by Espargaro but it's nice to be at least closer than last time in Austin. I just ran out of time at the end of the race because I was catching him very quickly. In Austin I was 50 seconds behind the winner and here the deficit is 44 seconds, so that's definitely a positive and our aim for the future will be to keep reducing the gap. I'm really looking forward to the test tomorrow. It will be another learning experience for me and it will be nice to test on a track where we've just had a race and where I feel now really comfortable on the bike. Tomorrow we will be able to test a few different parts and understand actually what's working better and what does not. So all in all it has been a positive weekend with improvements in every session.
Herve Poncharal – Team Manager:
"It has also been a very positive weekend for Bradley who improved a lot in every session and he managed to score his first MotoGP top 10 finish. The race was hard and he had some good fights with Andrea and Pirro and this was very interesting to watch. At the end he managed to pass Pirro and finish close behind Dovi, which is a very strong result. We leave Jerez very confident for the upcoming challenges, and the next one will be our all-important home race in Le Mans where we are already really excited about going there."