Smith happy to qualify on the third row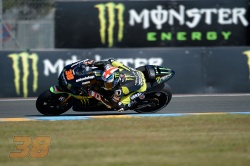 Posted on May 18, 2013 by Monster Yamaha Tech 3
Bradley Smith continued to show his calm concentration and steady improvements as he lapped the Le Mans circuit today on his YZR-M1.
Having performed well enough to join the second qualifying session the young British rookie stayed out on track during the 15 minute heat whilst the majority of rider spitted for fresh rubber and enjoyed an empty track.
In the hunt for the best possible grid position Smith was able to lay down a best time of 1'34.222 seconds for ninth on the grid, just over a second from pole and just 0.213 seconds from nine-time World Champion Valentino Rossi in eighth.
Bradley Smith 9th 1'34.222 – 10 laps:
"I'm definitely happy to qualify on the third row today. We made some great improvements throughout the whole weekend getting consistently faster during each session. Nevertheless I'm embittered about the gap to the fastest because it's just over a second and my aim was to be a little bit closer, but probably I would need to worry if I'm completely satisfied after finishing ninth. Anyway, I want to say a big thanks to my team because they prepared a fantastic bike for me that gave me more and more confidence with every single lap. I'm really looking forward to putting on a good show in front of the French fans during tomorrow's 28 laps lasting race."