Front row for Bradley Smith at Austrian Grand Prix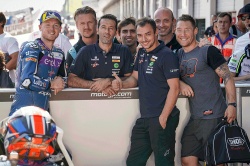 Posted on Aug 10, 2019 by One Energy Racing
ONE Energy Racing rider will start from third position, after a great qualifying session at the Red Bulll Ring.
ONE Energy Racing took a spot on the front row for the first time in their MotoE World Cup campaign, as Bradley Smith set the third fastest time in a very tight fight in E-Pole. Tomorrow he will seek to be in the fight for victory in the second round of the season, held at the Austrian track.
After a positive FP3 session in the morning, in which Smith managed to take a further step forward and finish fourth, he went into the E-Pole session with the aim of earning a spot on one of the front two rows. A strong 1min 35.311secs lap gave the ONE Energy Racing rider the position he was looking for ahead of the Austrian GP.
Smith was previously on the podium at Round 1, and is targeting a first MotoE World Cup victory when the race gets underway at 10am local time on Sunday.

Bradley Smith:
"I am very happy with our first front row. After the hard E-Pole session at Sachsenring, I had been studying this circuit very thoroughly to try to be at the front at this Grand Prix. My lap wasn't perfect, and I lost some time on the first two braking points, but in the end it was enough to be among the first three places on the grid. We were also able to improve a lot, I'm very happy with the work we are doing this weekend. Even so, the points are awarded tomorrow; I will try to make a good start and push from the beginning. I think there is an opportunity to open a gap, so that's what I will try to do from the first lap onwards."