Smith kicks off 2013 preparations in Sepang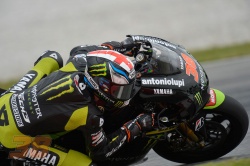 Posted on Feb 05, 2013 by Monster Yamaha Tech 3
Monster Yamaha Tech 3 Team rider Bradley Smith enjoyed a positive and productive start to the 2013 MotoGP winter testing campaign at the Sepang International Circuit in Malaysia today.
Today's action presented rookie Smith with the perfect opportunity to build up his experience on board the YZR-M1 and the 22-year-old was able to complete 56 fast and consistent laps that were closing to placing him inside the top 10.
Rather than experiment with different settings, Smith concentrated purely on learning more about the riding technique required in MotoGP and acquitted himself superbly to clock a best time 2.03.460.
That encouraging pace put Smith ahead of Andrea Dovizioso and only a fraction behind Nicky Hayden's pace, and the 125cc Grand Prix winner is confident he can cut t he gap to the leading group and challenge for a top 10 result in the remaining two days of the test.
Bradley Smith 12th 2.03.460 – 56 laps:
"When I started getting warmed up this morning at 9am and it started raining, my heart sank and I thought it was going to be a Valencia experience all over again. Luckily it didn't last and I got out on track and I am very satisfied with how today went. The idea for this test is to keep it very simple and be consistent, so each time I go out I learn, understand and enjoy it and get some confidence. Each exit from the pits I wanted to get to the lap time I did before and then try and beat it by a little bit. I managed that and for that reason it was a positive start. This test is all about me learning how to ride the M1 rather than worrying about anything else like big set-up changes and we made good progress with every e xit. All we've been doing is trying to make the bike as easy as possible to ride so I can understand the bike, the tyres and how the chassis works. We are keeping the bike very user-friendly just to help me understand the right lines. I'm still using Moto2 lines but being able to analyse Cal, Jorge and Valentino's data is a big help because you can easily see what you are doing good and what you are doing bad. All I'm doing is learning and trying to gain some confidence before we try and make any big steps with changes, which we probably won't until the next test back in Sepang at the end of the month."