Smith makes MotoGP debut in Valencia Test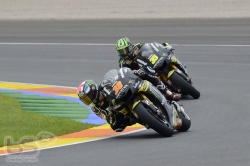 Posted on Nov 15, 2012 by Monster Yamaha Tech 3
The Monster Yamaha Tech 3 Team ended a successful 2012 on a high note yesterday after newcomer Bradley Smith was able to complete a brief but positive test session in cool and cloudy conditions at the Ricardo Tormo track in Valencia.
Cold temperatures and intermittent rain meant Smith didn't even complete a single lap on Tuesday when preparations for the 2013 MotoGP World Championship got underway.
The weather played a pivotal role again yesterday after torrential rain overnight soaked the Ricardo Tormo track, which was slow to dry despite glorious sunshine and a strong breeze this morning. It looked like there would be no opportunity to test on Bridgestone's slick tyres as heavy cloud cover descended over the track in the early afternoon.
Smith was able to get his first taste of the YZR-M1 machine when he was one of only five riders to lap on Bridgestone 's wet weather tyres earlier in the day. He completed 16 laps in tricky conditions before returning later to get his first chance to ride on Bridgestone's slick tyres with carbon brakes.
The 21-year-old completed an additional 27-laps and declared himself satisfied with 11th place on the leaderboard, as he impressively got to grips with the heavier and more powerful MotoGP machine to set a best time of 1.34.538.
Bradley Smith 11th 1.34.538 – 43 laps:
"Today was a fantastic moment in my career and it is great to finally get chance to test the Monster Yamaha Tech 3 YZR-M1 bike. Today more than made up for Tuesday's disappointment when I couldn't ride because of the weather and it actually worked out great for me because I rode in the wet and dry, and this is brilliant to help me build up my experience. Obviously the bike is completely different to anything I have ridden before, but it is an unbelievable machine. The power is incredible and in the dry when I came on the straight for the first time, I just had a huge smile. The level of technology is really impressive but I was able to consistently improve my time with every run and I am leaving very satisfied with my performance and confident in my potential for the future. Cal followed me for a couple of laps and gave me some tips and I really appreciate that. Cal had a fantastic season and I know I can learn a lot from him. I can go into the winter break now knowing what I need to work on in the future and I am glad we have plenty of testing ahead of us because there is so much to learn."
Herve Poncharal – Team Manager:
"It is a shame that the weather played such a big part here because everybody had a lot of anticipation and excitement ahead of the first test for 2013. We certainly did because we have been keen to let Bradley begin learning about the YZR-M1. He did a few laps in the wet in the early part of the day and that would have given him some confidence because he has so much to learn about the tyres, power and electronics. It couldn't have been easy making his MotoGP debut on a wet track but he looked immediately at home on the bike. I'm pleased that he could get some time on slick tyres and carbon brakes, so at least he knows what to expect when we resume testing in Sepang next February. He has a big challenge ahead of him but today was a very promising start. It has been a long but incredibly successful season for the Monster Yamaha Tech 3 Team and now we are looking forward to a thoroughly deserved winter break before we return refreshed and raring to go at the next test in Sepang in February."