Smith misses Q2 by only fractions of a second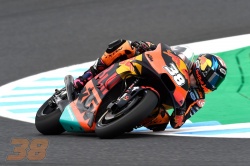 Posted on Oct 20, 2018 by Red Bull KTM Factory Racing
Red Bull KTM's Bradley Smith was within hundredths of a second of making the Q2 qualification cut at a sunny Motegi today. Bradley showed promising speed at the Japanese circuit with the KTM RC16 and will line-up 13th on the grid for the sixteenth round of nineteen in 2018 MotoGP tomorrow.
The distinctive curves and demanding sections of the Twin Ring Motegi opened the first of MotoGP's 'triple', taking in Japan, Australia and Malaysia in three weeks. Red Bull KTM Factory Racing arrived with the rest of the paddock to the renowned course and were happy to find bright weather conditions for the last Free Practice sessions and Qualification runs today.
Heavy on braking and acceleration, Motegi is a special test for the riders and their technical set-ups and both Bradley Smith and Pol Espargaro got down to work immediately; setting lap-times that placed both KTM RC16 motorcycles in the midst of the MotoGP pack.
When it came to a frantic Q1 session Smith's penultimate effort meant he was just seven hundredths of a second from Takaai Nakagami at the chequered flag and from the last slot to make the Q2 cut.
With good potential for the 24 lap (115km) race tomorrow Red Bull KTM Factory Racing Team will be looking to continue their buoyant run on Japanese soil so far.

Bradley Smith (Factory Rider MotoGP):
"Overall it was a positive day. We played the 'long game' because I didn't have the best feeling yesterday so we tried a lot of ideas and used bike one and two as much as possible. Some ideas were working and some weren't and that was right through FP4. It was a bit stressful but I felt that the package was coming together. At the right moment I set a good rhythm in FP4 and I was confident that we had a good motorcycle for qualifying. It is a shame we had some yellow flags because it held me up in sectors 3 and 4 of the last lap and it would have been nice to go to Q2. Anyway, 13th is a good position for us and I'm excited to see what happens tomorrow. We've created a stable bike for all the hard braking points here in Motegi – it will be a tough race but we'll try to take advantage of our good set-up as much as possible."

Sebastian Risse (Technical Director MotoGP):
"We had to use every minute we had on the track because this place is new for us in the dry. I think our bike suits Motegi quite well. We already had a picture after FP1 that our bike is in the ballpark here. We had a few surprises with the tyres today and when they are so different then it makes our job that much harder. Anyway, overall, I think qualifying showed where we are: we're close to Q2 but not quite there yet. We have to keep developing the bike. There is always a difference between ultimate lap-time and race pace and we will try to use this to our advantage."