Smith only one second from pole at home GP in Austria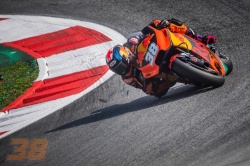 Posted on Aug 11, 2018 by Red Bull KTM Factory Racing
Red Bull KTM Factory Racing Team relied on lone representative Bradley Smith to take the KTM RC16 to 13th position in Qualification at the Red Bull Ring today. The Brit was only a second away from Marc Marquez' Pole Position effort and will line-up first on the fifth row of the grid for the 28-lap eleventh round of nineteen in MotoGP tomorrow.
With Pol Espargaro and Mika Kallio absent through injury it was left to Bradley Smith to set up KTM's flagship racing machine for one of the fastest circuits on the MotoGP calendar. Changeable conditions made for some complicated work at the Red Bull Ring in Spielberg and through the four Free Practice sessions. Smith excelled in the wet and classified second in FP3 on the KTM RC16 MotoGP bike.
#38 set his best lap-time with his second-to-last run in Q1 this afternoon and missed out on his first Q2 appearance by just five hundredths of a second. He beat Valentino Rossi (in 14th) and ended up just a second from World Champion Marc Marquez. His feat was an improvement of almost half a second from 2017.

Bradley Smith (Factory Rider MotoGP):
"It was frustrating not to get into Q2 and I should have done it on the first flying run but I made a mistake into Turn 4 and then I'm sure 0.05 was about the tyre not accelerating a bit better out of the last corner (on the second run). It is weird to be frustrated in a situation where we are 13th but I feel we had the pace to be in Q2 today. Anyway tomorrow is when it counts and when it's about points. I had good pace on the Medium tyre in FP4. We'll try and analyse everything we can for tomorrow when we'll have another chance. I'm happy we can keep on improving our current bike because that bodes well when the new one comes along. The top ten is possible tomorrow. It will be very close. The start will be everything and tyre choice as well."

Sebastian Risse (Technical Director MotoGP):
"Considering all the pressure and expectation here Bradley is doing an excellent job for us. Having just one rider instead of three does not make it easier for anybody; we miss data and information and especially with quite 'special' track conditions in a lot of the sessions. The bike works well here and we are still working on things because some corners are demanding. The track looks quite simple on the map and amazing when you are standing next to it but you have to set up the bike in a particular way. Tyre choice will be a bit of a gamble because nobody could get a lot of experience with the range in all conditions. I don't think we are in a bad spot and we just missed Q2 by a little bit. The dominant feeling is one of positivity and we'll try to make the most of it tomorrow."

Races: August 12, 2018 – Moto3 11:00 | Moto2 12:20 | MotoGP 14:00 | Red Bull MotoGP Rookies Cup 15:30 CET