Smith performs heroics in Mugello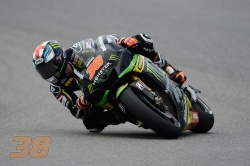 Posted on Jun 01, 2013 by Monster Yamaha Tech 3
Monster Yamaha Tech 3 Team rider Bradley Smith delivered a heroic performance in a tense and dramatic qualifying session ahead of tomorrow's Mugello MotoGP race in Italy.
Heroic performances are becoming a trademark of the Monster Yamaha Tech 3 Team and today was no exception, with Smith showing bravery and determination above and beyond the call of duty after he suffered a nasty hand injury in a high-speed practice fall yesterday afternoon.
Smith had already rode through the pain barrier to earn a place in QP2, and despite constant pain and discomfort coming from a badly damaged little finger on his left hand, a lap of 1.48.706 secured the 22-year-old a hard earned but richly deserved 11th spot on the grid.
Bradley Smith 11th 1.48.706 – 5 laps:
"First of all I was just happy that I was able to ride today after the big crash in practice yesterday. My left hand is not in the best condition but the Clinica Mobile staff did an incredible job working on my finger and my wrist. Sometimes there were four people working on me at the same time, so I owe a huge thanks to all of them for helping me to be out on track today. Considering this whole situation I really have to be happy to have made my way to QP2, even if 11th is a little bit disappointing. But I preferred to save my energy for tomorrow's race, which will probably be very demanding from a physical point of view, instead of risking too much for a better lap time this afternoon. I'm also very pleased with the set-up of the bike and we just need to make a couple of small changes for the warm up, but all things considered we should be proud of what we achieved given my physical condition. Now I will just try to get as much rest as possible for tomorrow as I want to collect a decent number of points for the Championship and hopefully battle for another top 10."