Smith perseveres at challenging German Grand Prix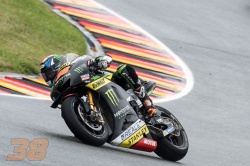 Posted on Jul 17, 2016 by Monster Yamaha Tech 3
Monster Yamaha Tech3 Team rider Bradley Smith produced a determined performance at the gruelling ninth round of the 2016 MotoGP World Championship to finish in 13th position in front of 93,000 passionate fans. The young Briton kicked off his campaign from the fifth row of the grid and undertook a solid start as he set about climbing through the pack. However, during the opening lap, Hernandez ran into Smith which caused the Briton to lose his left knee slider and therefore drop to the back of the field. Yet, Smith remained resolute and eventually pitted just after halfway through the GP. Here, he changed to his second bike with intermediate tyres and replaced the knee slider before commencing his recovery charge. The 25-year-old rode at an impressive pace on the drying line, but despite his best efforts and due to the distance lost in the first part of the race, he eventually crossed the finish line in 13th.
Bradley Smith: – Position: 13th – Championship: 16th – Points: 35
"It goes without saying that it was a tough GP, but I did the best that I could in what was a tricky day of racing for me. On the opening lap, Hernandez hit me and knocked off my left knee slider. This would have been an issue in the dry, but in the wet, where the sliders are thicker, it was even more of a challenge. I made the call to pit and change to the bike with the intermediate tyres at the correct moment. Yet, we also had to put a new knee slider on in the pit lane and this had a knock-on effect. When I returned to the track, we had already lost a lot of time so it was damage limitation and I recovered a couple of places. It was a frustrating end to the weekend because the team deserve more than three points and of course I want to be fighting for the top independent position. However, one positive that we can take away from this weekend is that I had good pace on the intermediate tyres and I was one of the faster guys for a period. At the moment, we can't seem to catch a lucky break, but I am fit and healthy as we go into the summer break so I will stay positive. I will work hard in the next three weeks in order to come back much stronger and therefore, be ready for the second half of the season."
Hervé Poncharal - Team Manager:
"We didn't finish the first part of the season in the way that we wanted to as it was one of those tricky weekends for us in Germany. Clearly, the conditions could have helped us a lot but we didn't make the most of it. I have to be honest when I say that Bradley wasn't very lucky during the whole weekend in Germany. He seemed to be struggling in the early part of the race, so we expected him to pit earlier. However, when he did change to the bike with intermediate tyres, his pace was strong and he managed to claw back two positions, but this isn't exactly what we wanted to achieve. This is a weekend to forget, but I am sure that the Monster Yamaha Tech3 Team can have a better time at the next round. I want to thank to the whole team for their efforts and I hope everyone has a happy holiday so that we can all come back fresh and motivated in Austria."