Smith powers through the rain to start from 5th row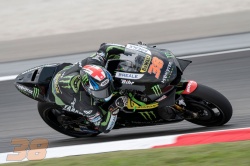 Posted on Oct 29, 2016 by Monster Yamaha Tech 3
Bradley Smith powered through the rain and will begin the 17th round of the 2016 World Championship from the 5th row of the grid after pulling off a relentless charge today. He began by completing the morning practice session in 14th, as he narrowly missed out on the cut off point for Q2 by a mere 0.177 of a second. Yet, later on, the determined 25-year-old commenced his Qualifying One campaign in the wet conditions and he built up his pace before eventually setting his quickest time that left him only 0.014 back from the QP2 qualification slots. This performance saw him seal 13th and now, Smith confidently targets a top ten result in tomorrow's race as he aims to round up the consecutive flyaway GP's with a third solid result despite still riding with a damaged knee.
Bradley Smith: – Position: 13th – Time: 2'12.898 – Laps: 7
Once again the conditions today were not ideal which made everything harder than usual but now I am prepared for either a wet or dry race tomorrow and I am looking forward to the fight. This morning, I felt quite strong on the bike and I was certain that I could reach Q2, however, I made a silly mistake at the last corner, which prevented me from progressing. Having said that, I was comfortable on my Yamaha in that session and we collected a lot of vital data, which we will need if the race is dry. Then, later on in FP4, I had a good feeling in the wet on both compounds of tyre. So in qualifying, we took a gamble but unfortunately it didn't quite work which is a little frustrating as we were so close to making it into QP2. Yet, when we look at the bigger picture, I am pleased that I am back to my competitive level and it's positive that my knee injury keeps improving. I am as far forward as I can be without going into the second qualifying shootout, and now we will have to wait and see about what happens with the weather tomorrow. Either way, I am optimistic about my chances and I will give 110%."