Smith ready for top 10 challenge in Jerez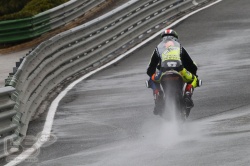 Posted on Apr 28, 2012 by Tech3 Racing
Bradley Smith is confident he can deliver a top 10 finish for the Tech 3 Racing Team in tomorrow's Jerez Moto2 race after a difficult qualifying session this afternoon.
The Moto2 qualifying session took place on a full dry track, presenting Smith with his first opportunity to work on the set-up of the Mistral 610 machine on Dunlop slick tyres.
The British rider's session didn't go according to plan and his bid to qualify close to the top six was thwarted by a crash with just 10 minutes remaining. He was unhurt in the spill and managed to return to the track thanks to the lightning quick work of his Tech 3 Racing crew and he set a best time of 1.44.406 to finish less than 0.1s behind Simeon.

Bradley Smith 19th 1.44.406 - 18 laps:
"Today wasn't ideal preparations for the race and starting from 19th we know is going to make it more tricky when the times are so close. We were still able to learn a lot today and that will be very helpful for future races. To be honest I would prefer a wet race tomorrow because we are a lot stronger in the rain. There are a lot opportunities to pass here in the wet, so I'm not worried about that and I will get my head down and attack right from the start. I was very fast in the rain here last year, so hopefully if it is raining I can produce another performance like that to put today behind us with a good result.