Smith sets sights on top six in Assen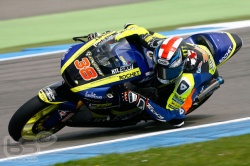 Posted on Jun 29, 2012 by Tech3 Racing
Tech 3 Racing Team rider Bradley Smith is confident he will be battling for his first top six finish of the 2012 Moto2 World Championship in Assen tomorrow after an encouraging qualifying performance this afternoon.
The British rider will start from inside the top 10 for the second race in a row after a best lap of 1.38.414 secured him eighth position in another closely contested Moto2 qualifying session.
Smith's growing confidence with the 2012 Mistral 610 machine was on display and his quickest pace was just over 0.1s away from the fourth best time and he is optimistic he can challenge for the top six in tomorrow's 24-lap race.
Smith has once again worked closely with his Tech 3 Racing crew to improve the performance of his Mistral 610 machine and after leading his home race and finishing seventh at Silverstone 12 days ago, the 21-year-old is looking to finish higher up the leaderboard tomorrow.
Bradley Smith 8th 1.38.414 – 23 laps
"It has been a very positive weekend so far and we have improved the bike in every session and gone faster and faster. My feeling with the bike is getting better and better and we have definitely taken another step this weekend, so I am really happy about that. There is a bit of a gap to the top three but between fourth and tenth it is pretty close and it is going to be really important to get a good start. The first part of the track is pretty tight so I need to be aggressive like I was in Silverstone to pick up some places early on. It looks like it could be an exciting fight tomorrow and I am looking forward to it. It would be nice to be back inside the top six, which would be a step in the right direction and a reward for all the hard work my Tech 3 Racing has been putting in."