Smith shines on Tech3 home turf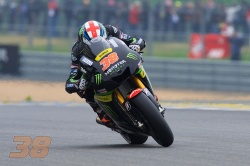 Posted on May 17, 2015 by Monster Yamaha Tech 3
Bradley Smith completed a notable weekend at the Monster Energy Grand Prix de France in 6th position aboard the Yamaha YZR-M1. As the 28 lap battle commenced under glorious sunshine at the legendary Le Mans circuit, Smith undertook a strong start and fought his way through an intense first lap to hold on to his qualifying position of 6th. The young British rider tailed the leading riders before successfully catching and overtaking Marquez on lap five and then opening a gap on him. Smith's formidable race rhythm and consistent lap times kept him in a fast pace and with half race distance reached, the 23 year old was running in 5th position. With 8 laps remaining, Smith had impressively closed the deficit to Andrea Iannone and was involved in a memorable and fierce fight for 4th position. Smith stayed right in the hunt and eventually finished the race in 6th but just a hair's breadth back from Marquez and Iannone. This result puts him as the leading satellite rider at the round five battle and sees him now only one point behind 6th place in the riders championship standings.

Bradley Smith: – Position: 6th – Championship: 7th – Points: 46
"I am happy and it was a great way to end the Monster Yamaha Tech3 Team's home race! The track conditions really warmed up today, which meant that we all went a bit into the unknown as it was much cooler on the other days. Therefore our setting was slightly limited at the beginning of the race because it resulted in me tucking the front a few times in the opening laps. However, to end up fighting with the reigning MotoGP World Champion and with another factory rider is where we want to be so I have to be happy with finishing as the leading satellite bike. We've also gained some championship points on Cal, so we have accomplished what we set out to achieve. Of course, it would have been even better to reach 4th but at one point I thought that Marc and Andrea may collide, so I gave myself enough space in case they did! Anyway, it was useful for me to watch this battle as I learnt a lot and I can use this knowledge in future races."

Hervé Poncharal - Team Manager:
"It was an amazing race, I am delighted with both riders and what they achieved today. Brad had an incredible weekend and topped it off with a good finish. Across all three days he was fast, consistent and made no mistakes and from the start until the finish flag, he gave 100% plus, it was an incredible moment when we saw him catch and then open a gap on Marquez. The race then went quite, but he didn't give up and we saw him easily close down Iannonne so we thought we had 4th in the bag. However, in the end it was a great battle between those three riders and definitely the best fight in the race. To finish behind Marquez and Iannone as well as the first non factory bike was mission accomplished plus we were right in the mix. I want to say thanks to Brad for showing his determination and staying cool plus, without doubt, he learnt a lot. It was a great day for motorcycle racing in France and for us at our home race, as we managed to close the gap to Repsol Honda in the team championship standings where we are now just behind 3rd position by three points. I also want to congratulate Yamaha for their outstanding performance at Le Mans."