Smith shows fighting spirit in Aragon thriller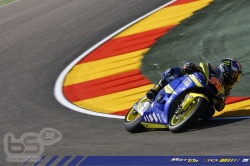 Posted on Sep 18, 2011 by Tech3 Racing
Bradley Smith proved once again why he is one of the toughest competitors in the Moto2 World Championship after he produced a heroic fightback into the top six in today's Motorland Aragon race.
Smith's awesome surge through the field was one of the highlights for a crowd of over 63,000 fans packed into the state-of-the-art Motorland Aragon track. The 20-year-old finished the first lap in 16th before embarking on an overtaking masterclass . He moved inside the top 10 on lap 16, as he engaged in an enthralling fight with nine other riders contesting fifth position.
He started the final lap in eighth place but two more brilliant passes on Mika Kallio and Thomas Luthi secured him a seventh top six finish of the campaign.
Bradley Smith 6th – 112 points:
"Nobody can say I don't like working hard for my results after that. I had a bad start and it took a little while for me to get into my rhythm and find a good feeling with the tyres. I was a little bit worried at the beginning as there were many riders in front of me and I thought it might be difficult to reach the top 10. But I kept improving my pace and got more comfortable with the Tech3 Racing Team bike and I started to make my way forward. As I was overtaking people I kept thinking this might be the last one but I just put my head down. It was definitely a crazy battle but really good fun. There were a lot of close moves and I loved every minute of it. It was something that I haven't done for a while and holding my own in a tough fight is something I've been told I'm no good at, so I put a few things straight this weekend. We did a good job to finish sixth having started 15th. We didn't quite get the result that I was looking for, but I learnt a lot in this race and although I lost some points to Iannone and de Angelis in the Championship, I am confident for the last four races."

Hervé Poncharal – Team Manager:
"That was a typically chaotic Moto2 race again where there was a lot of action in a lot of places and you couldn't take your eyes of the race for one second. We were clearly very competitive this weekend but unfortunately a small crash on Saturday morning ruined Bradley's qualifying and starting from 15th makes it very difficult. We got to show our true potential again in the warm-up when he was third, so we started the race with high hopes that he could figh t his way through to the top six. This time the start of the race was not very good and for a few laps he was out of the points, but Bradley never gave up and pushed really hard. He was lapping at the same pace as the leading group and making some brilliant overtakes that showed when the lights go out he is one of the most determined guys on the grid. Considering where we started and where we were for the first few laps, we can't be unhappy to finish in sixth. This shows how good the Mistral 610 package is and how good and motivated Bradley is"