Smith to start on fifth row after tough qualifying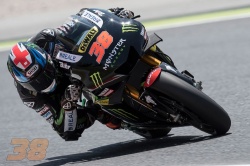 Posted on Jun 04, 2016 by Monster Yamaha Tech 3
Bradley Smith will kick off his mission to end up as the leading satellite rider from the fifth row of the grid after a determined effort in qualifying today. The young Briton was increasing his pace in FP3 as the session drew to a close, but an unfortunate fall occurred at the second turn, which halted his chances of improving his time and caused him to participate in qualifying 1. Here, he rapidly set off and built up his speed at the physically demanding circuit. Smith dug deep and posted a lap of 1'45.197 on his penultimate run, which resulted in him finishing in 14th whilst also marking a huge cut of over two seconds from his FP3 time. Tomorrow, he will intend to undertake a rocket start and join the hunt with his teammate for the top independent position.
Bradley Smith: – Position 14th – Time: 1'45.197 – Laps: 7
"The step that we made today wasn't as big as what we would have liked, but we certainly made good progress in the right direction. Of course, the grid position is not the result that we were hoping for, yet if you look at the lap times in QP1 it was very competitive compared to the second session and my qualifying one time would have put me ahead of my teammate. We didn't manage to ride a 1'44 lap today but I did the best that I could and we definitely improved a lot from FP4. Also, I must say thanks to the team who worked really hard to get my bike ready for this afternoon after the fall I had in FP3. We managed to improve to such a degree, that there are always some minor issues that remain and still need to be ironed out, so today felt like we were one session behind. Anyway, if there is a positive to be taken from not participating in QP2, it's that we saved a set of tyres, which means that tomorrow we can do a solid, long run in the warm up and then set everything for what will be a challenging race. It certainly won't be easy, and it will be tricky with these tyres, which may drop quite a bit in performance over the whole distance. Having said that, we are more optimistic about tomorrow than we have been for the weekend so far, so tonight we'll look at the data and continue to work hard and I'm sure that we can progress even further. Hopefully, this will be reflected in the result and honestly, I think my chances are good because aside from Barbera, the satellite guys are bunched together. Therefore, I will focus on getting a good start tomorrow and we will see where we can finish."